Crescent Varsity Mass Comm HOD Honoured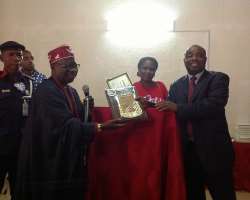 With additional reports by Crescent University Radio
Head of Department of Mass Communication, Crescent University, Abeokuta, Dr Kola Adesina has been honoured with an award of excellence by African Age International magazine.Adesina received the award amongst eight others selected from academics and professionals who have distinguished themselves in their areas of practice in West Africa.
According to the publisher, Prince Sado Patrick, the award was to honour men and women who have made marks in their fields of endeavor.
Ado added that the award was to serve as a booster for the awardees to do more to impact on their countries and reward the right calibre of people in our society.
Presenting the award, the Oba of Akinale, HRH Oba Olufemi Ogunleye said he was very excited to witness the award ceremony. He described Dr Adesina as a consummate journalist and mass communicator whose contributions to the profession are in no small measure.
Oba Ogunleye said Dr Kola Adesina's career of over twenty five years of journalism practice in Nigeria and around the world made him to be head hunted to head the department of mass communication of Crescent University, Abeokuta where he had largely contributed to the training of job-ready professionals.
In his acceptance speech, Dr Adesina described the award as a good occasion , noting that what the organizers had done was their own contribution to the propagation of reward of excellence, bringing to the fore the unsung heroes in the society.
"We did our research and found this organizers worthy.The glory is given to Department of Mass Communication of Crescent University Abeokuta and Prince Bola Ajibola,the founder of the institution."
Adesina's journalism career started in 1985 after leaving as an Assistant Editor, Ogun Community Concord, Abeokuta while doubling as Editor, Village News, Abeokuta from 1985 to 1988; Editor, Flight Africa Magazine from 1988 to 1989; International Editor/Head of Europe Bureau, Flight Africa based in London from 1989 to 1990; Assistant Editor, Home News published in English in the United Kingdom from 1990 to 1992; Executive Officer ( Press Office), Department of Health and Social Security (DHSS), Greenwich, London from 1991 to 1993; Special Correspondence, West African Magazine from 1993 to 1996; News Editor, West African Magazine, London from 1996 to 1999 and Managing Editor, African Concern Magazine, London form 1999 to 2004.
He was the winner of Best Written Feature Category in United Kingdom in the 1998 and the Multicultural Media Awards which was moderated by Kinston University, Surrey,