How I Used Food To 'Charm' My Husband- Matse Uwatse-Nnoli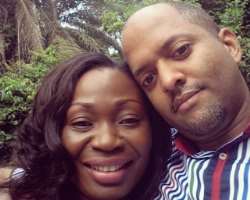 Matse Uwatse-Nnoli who got married to her Nigerian/German husband in a recent interview revealed how she met him and how the handsome dude fell for her recipe.
"It wasn't my food that initially drew my husband to me but it was what made him appreciate me more. He initially liked me as a woman and enjoyed our intellectual banters before partaking in my culinary delights. My cooking sealed the deal though.
Before radio, cooking was and is my first love. I started cooking as a teenager. Baking all sorts of things in my mum's kitchen and trying out different recipes. I taught my entire household as a teenager how to bake.
A lady's life is not all about the kitchen, but if you love doing it, do it. If you can afford it, pay someone else to. There is more to life than cooking. Women nowadays are thinking beyond cooking. I do it because I love it but when I am forced to do something, I dislike that thing."
Then how did he pop the marriage proposal question to Matse's?
She recalled: "Love proposal ke! It wasn't the traditional type of proposal. It came in between a conversation. We were talking and he suddenly said, "Let's get married". I was shocked and he repeated it. That was how the journey of a thousand miles started."
She also shared her life away from the usual Radio Personality, which catapulted her to fame.
"Life away from radio has been peaceful. I guess I needed being off radio to revaluate my life. It made me closer to my husband and allowed me enough time with my new born and entire family. Instead of the fast paced life I was used to, I slowed down a bit and this has been great. It showed me other hidden talents that I had not explored. Now, apart from being a media personality, I am now an entrepreneur, a food blogger, photographer and a software developer. The titles keep coming."