4 Awarded SGU's Commonwealth Jubilee Scholarship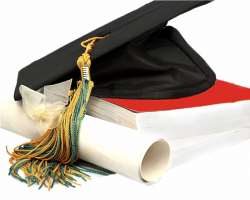 Abidemi Idowu of Nigeria, Ramit Relan of India, Marina Nimrod of Trinidad and Tobago, and Juliet Enow of Cameroon are the newest recipients of St. George's University's Commonwealth Jubilee Scholarship, a scholarship which will cover the students' full tuition for the duration of their programs at SGU.
These four students, who began studies at SGU in Fall 2014, were selected from a pool of hundreds of applications primarily based on their academic excellence and strong commitment to their chosen disciplines. Ms. Idowu and Mr. Relan will be doing the four-year Medical Doctor (MD) program, while Ms. Nimrod will pursue a Master of Business Administration (MBA) and Ms. Enow a Master in Public Health (MPH).
The scholarship seeks to nurture and encourage students of superior academic caliber to strike out and impact the development of industry and healthcare in their home country. It recognizes students, typically from developing nations or small states, who are highly motivated and academically curious with a strong commitment to return to their countries as professionals in their areas of study.
"Receiving the Commonwealth Jubilee Scholarship means being able to realize yet another dream along my career path," said Ms. Nimrod, an aspiring management consultant and entrepreneur. "I would like to use the skills and competencies I acquire at SGU to support efforts in my home country to develop entrepreneurs, especially in disadvantaged communities.
"Receiving the Commonwealth Jubilee Scholarship is first an achievement, and also an honor," said Ms. Idowu. "It validates my choice to become a doctor and is a source of motivation; to whom much is given, much more is expected and this scholarship has given me another reason to work hard."
After graduating from SGU, she hopes to specialize in surgery or emergency medicine. "A lot of places in my home country have limited access to proper health care, especially emergency medical care," she said. "I plan to start up something that will also benefit the rural areas, not just the developed towns, in my home country."
SGU launched the Commonwealth Jubilee Scholarship program in 2013 to help academically gifted students with limited resources reach their potential. The four new scholarship awardees bring the number of Commonwealth Jubilee Scholarships already awarded to 19. St. George's University will grant a total of 60 Commonwealth Jubilee Scholarships in commemoration of the Queen of England's Diamond Jubilee, which was celebrated in 2012. The occasion marked her 60th year as Head of the Commonwealth of Nations.
About St. George's University
Founded as an independent School of Medicine in 1976, St. George's University has evolved into a leading center of international education, drawing students and faculty from 140 countries to the island of Grenada, in the West Indies. Students attending St. George's enjoy the benefits of a thriving multicultural environment on the True Blue campus, offering all the amenities and technologically-advanced facilities of a world-class institution.
The University's more than 14,000 graduates include physicians, veterinarians, scientists, and public health and business professionals across the world. The University offers medical and veterinary degrees in the schools of Medicine and Veterinary Medicine, respectively, and independent and dual graduate degrees in the sciences, public health, and business. Undergraduate degree programs are also available through St. George's School of Arts and Sciences. The University's programs are accredited and approved by many governing authorities and repeatedly recognized as the best in the region. St. George's is affiliated with educational institutions worldwide, including the United States, the United Kingdom, Canada, Australia and Ireland. For more information, please visit www.sgu.edu