I'm Not Doing Music For Money Or Fame—DJ Switch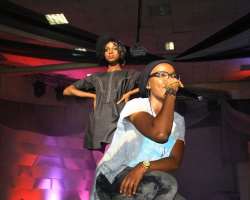 Obianuju Catherine Udeh known as DJ Switch, has make known that her singing performance to her, has not been about the money, lights applause or fame but about hope, assurance, commitment and love.
DJ Switch was part of the winning music group of Star Quest talent hunt show along with Da Pulse in 2009 and in in 2013, she won the Glo X Factor reality show.
A world class dj, Dj Switch was awarded best female Dj in Nigeria by Cruise Exclusive. Playing events for top personalities and shows.
"Wen I perform,it's nt just 4 d money,d lights,d applause or d fame...its hope,it's assurance,it's commitment,it's love...This might sound lame...but its for you!"
Known for her versatility, she has tried to win more fans with some of her songs which includes "UWA,' 'talk,' 'koma' and recently 'My Body,' whic is already receiving massive airplay on radio stations.