FG discredits Obasanjo on Chibok girls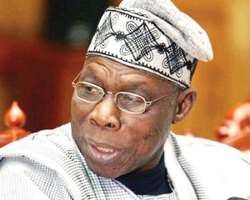 The Federal Government yesterday, carpeted former President Olusegun Obasanjo over the comment credited to him that 'Chibok girls may never return,' saying that Nigerians don't need be worry over the statement and that he is entitled to his opinion.
   The Coordinator, National Information Centre, Mr. Mike Omeri, who disclosed this in Abuja while reacting to comments credited to Obasanjo, appealed Nigerians to sustain their support for the government to end terrorism and safeguard the lives and property of Nigerians.
    His words: 'Obasanjo is a respected former president of this country and is entitled to his opinion,  but  l want to assure Nigerians that  the President Jonathan -led government still remains committed, undisputed and committed toward safety rescue of the Chibok girls.
   'In this direction, the armed forces and security agencies have developed an extensive rescue and tactical operational methodology embedded within the on-going military efforts in the north east.
   'In order words, the rescue of the girls is, no doubt , an integral part of the larger government efforts to safeguard the territorial integrity of Nigeria which the armed forces must be allowed to prosecute logically, in line with well-known and established tradition,' he said.
  He disclosed that about 2,000 persons including military, security personnel as well as innocent civilians and foreigners have lost their lives to the activities of the insurgents in the country since the abduction of the Chibok girls. - Guardian.