Delta Guber 2015: I will not disappoint, if elected - Uduehi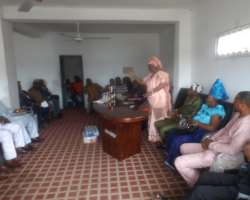 PDP Delta State governorship aspirant, Dr. Mrs. Esther K. Uduehi
Former Special Adviser to the president and governorship aspirant Dr. Mrs. Esther Kelicha Uduehi has promised to make wealth creation and tackle youth's restiveness, the major anchor of her administration, describing the duo as a key element to state development and nation building.
Dr. Uduehi who is aspiring for the number one seat in the state under the People's Democratic Party (PDP) expressed satisfaction with the level of work done by the current administration. She commended Gov. Uduaghan on the Delta beyond Oil initiatives and stressed the need for continuity to consolidate on what has been done. According to her, the State needs a competent person and technocrat who understand the nitty-gritty of every areas of governance.
Speaking during consultation visits to PDP executives in Patani, Ughelli North, Warri South, Bomadi, Burutu, Okpe, Ethiope West and Sapele local government areas, she urged party faithful to elect the best candidate during the primaries based on credibility and track record.
She promised that her administration will be for the common good of the people, urging the PDP executive/delegates to secure the future of the state by electing her during the primaries, remarking that the primaries will be done in secret ballot system; She also stated that the only person that anoints and knows that next governor is God. She allayed fears on the allege imposition of candidate, stressing it is the delegates that will determines the candidate, not one person in the state,
The governorship hopeful assured the delegates that she will not disappoint them if given the mandate.
Dr. Uduehi explained further that her administration will give more attention to the masses and that she will make sure that education and health care will be totally free for all. Speaking further, Dr. Uduehi maintained that she had served in various capacities in the Federal and state levels, including as Special Adviser to president, First woman in Nigeria to be sole administrator of a local government, first woman to manage a broadcast media in Nigeria and head/member of various committees both at Federal and state level' She was in the civil service where she rose to the position of permanent secretary.
With her vast exposure around the global, Dr. Uduehi is best positioned for the plum job and the candidate to beat.