Southern Group Endorse Atiku's Candidacy For 2015 General Presidential Election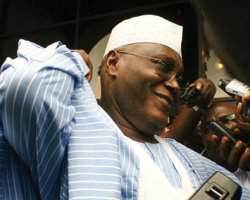 A political organization Abubukar Atiku Rescue Nigeria Project (AARNP) has endorse the candidate of Alhaji Abubukar Atiku for the presidential Race 2015 under the platform of the All progressive Congress (APC).
Addressing a press conference in Enugu Southeast Nigeria, The National Convener of the group Comrade Nnanna Nwafor and the National secretary Hon.Remy Chukwunyere stress that the candidate of Atiku for the top job is needed at a time the country is facing security challenges, non effective representation, impunity and corruption and lack of Democracy Dividend occasioned by the Bad leadership of the PDP controlled Government.
The group decried the level of decay of the federal roads in the southeast and South-South states, lack of federal presences and abysmal failures of the most PDP controlled states in the zones while the zone voted en mass to the ruling party at the 2011 General Election.
The organization lamented the increasing number of unemployment in the Zone and the number of southeasterners who have died in the insurgents activities occasioned by the Boko Haram in the North and regret that the present Government has failed in totality to address the increase trend of violence and loss of lives and properties in the Zone.
Over 9 million signatures have been collected from the Southeast and South south states endorsing former Vice President Atiku Abubakar as their sole candidate for the 2015 presidential race.
The organization has members drawn from the Southeast and South-south states and have been consulting with relevant political stakeholders to ensure the organization gives its full support to the former vice president as it declare its intention to run for the Race.
.
The organization urged the All Progressive Congress to give Atiku a chance to run on the APC's ticket for the presidential race based on his pedigree, wealth of experience, Human capital Development and political acumen.
Nwafor noted that the electorate in the present political situation have been fully sensitize to vote for candidates of their choice and not political parties, and stress that it is only Atiku that has the experience to rescue the country from the political logjams it found herself as an outstanding politician, adding that he stands for true democracy and good governance in the interest of the nation and is on a rescue Mission, the entire country stands to continue to suffer the effects of this neglect in future if the present leadership in the country is not changed.
"Atiku Abubakar is the most detribalized, accessible leadership figure in Nigeria with close links to citizen at all levels nationwide. Turaki has the greatest number of qualities required of a true leader and has a close relationship with the grassroots even empowered Many Nigerians in various fields through entrepreneurship and employment generation at all levels and thus should be called upon to the highest office in Nigeria which is president."


SIGNED;

Comrade Nnanna Nwafor
National Convener
08033383708
Hon.Remy Chukwunyere
National Secretary
08038702075