Orji Uzor Kalu Aquires Most Expensive Aircraft in Nigeria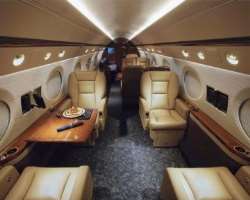 Only God will help the average Nigerian in this country with the rate at which pastors and politicians go about acquiring private jets while the masses wallow in poverty.
Please we do not know is right it is for pastors, because the Bible says though shall not judge but let's look at the politicians in the country. What have they done during their tenure in office? How many lives have they saved and how many schools have they built? Did they declare their assets before and after and above all, how transparent are they?
According to Encomium magazine, former Governor of Abia state, Orji Uzor Kalu, now has the most expensive private jet in Nigeria.
The jet, which is the latest edition of the Gulfstream G650, is said to be worth about N12billion and arrived the Murtala Mohammed International Airport Lagos on Thursday September 18th from New York.
Described as the fastest civilian jet in the world, the PJ boasts of a basketball court, 8,000 statute-mile range, some of the most sophisticated avionics rivaling nearly anything in the sky and uses two Rolls Royce BR725 engines. The main price of the aircraft is put at $65 million but other charges could have raised it to $75m. According to Forbes, the Gulfstream G650 has an order book of 200 customers throughout the world.
Please let's ask this question, where will he park it this aircraft and the cost of maintenance daily and the pilot to fly the plane?
Ha, my God, where is this country heading to? What will happen to the child yet unborn? Well, it's left for you to answer not me.