Rogue Naval Officer Battered Akwa Ibom Politician After Stealing Fuel from Gas Station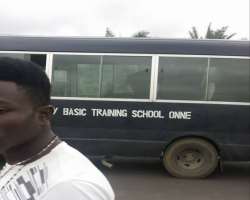 In what appears to be a repeat of the Lady Uzoma Okere's treatment by naval officers in Lagos, a prominent politician in Eket local government Area of Akwa Ibom State, Hon. Ekanem Willie was in the early hours of Sunday August 24, 2014, viciously battered and assaulted by a naval officer believed to be attached to the Navy Basic Training School, Onne, Port Harcourt Rivers State after he ran away with fuel worth of three thousand Naira.

The ugly and unnecessary display of smartness by the rogue naval officer who name is yet to be known happened at Stevegrad Filling Station along Liverpool Rood in Eket.

Hon. Willie said while briefing newsmen in Eket over the incident said that the naval officer took off his batch to deliberately conceal his identity and avoid identification by anyone who was around the scene.

"The naval officer, whose service number and name was not displayed on his unofficial uniform, drove into a filling station and bought fuel worth #3,000 (about $32) only. He tricked the pump attendant to allow him to eat some parked food in the naval bus before making payment. He all of a sudden entered the dark blue navy bus with an inscription "NAVY BASIC TRAINING SCHOOL, ONNE" and with registration number NAVY NNO9-D09, and drove off quickly. The pump attendant stood helpless.

Since I was in the same filling station to buy fuel, I offered to assist the pump attendant by pursuing the naval officer whom I accosted along Onna-Ikot Abasi High Way. I asked him to pay for the fuel he bought. He (Naval Officer) denied buying fuel without making payment but later accepted."

Hon. Willie, a former Vice Chairman of Eket Local Government Council said his only sin for the torture in the hands of the thievery naval officer was he bluntly told him in the face he was a disgrace to the Nigerian Navy.

"My only sin was for me to tell him that he is an embarrassment to Nigeria and The Nigerian Navy.

This huge and tall Naval Officer slapped me and tore my dress to pieces." Hon. Ekanem Willie, an Eket grassroots politician and community leader, who aspired for Eket LGA Chairmanship position in the last primaries under the platform of Peoples Democratic Party (PDP) called on well-meaning Nigerians to help him by bringing this Naval Officer to justice.

Reacting to the news, an Abuja based human right activist, Mr. John Peter said the action of the naval officer was not only criminal but a violation of Hon. Willie's fundamental human right and abuse of his professional uniform. He called on the Nigerian Navy to take a disciplinary action against what he described as "barefaced thief in navy uniform' to serve as a deterrent to others.

All efforts by our reporter to contact Director of Logistic and Administration Naval Basic Training School, Onne, Rivers State did yield dividends as calls and text messages directed to his mobile numbers were unresponsive as at the time of going to the press.
NAVAL OFFICER WHO STOLE FUEL AND BEAT UP AKWA IBOM POLITICIAN AND NAVAL BUS HE DROVE
NAVAL OFFICER WHO STOLE FUEL AND BEAT UP EKET POLITICIAN
NAVY BUS DRIVEN BY THE ROGUE NAVAL OFFICER WHO BATTERED THE FORMER EKET VICE CHAIRMAN
NAVY BUS DRIVEN BY THE ROGUE NAVAL OFFICER
THE CRIMINAL NAVAL OFFICER FROM NAVY BASIC TRAINING SCHOOL, ONNE RIVER STATE