World Bank pledges $250 million to fight Ebola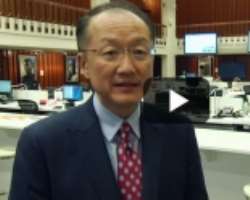 World Bank pledges $250 million to fight Ebola
Girls look at a poster, distributed by UNICEF, bearing information on and illustrations of best practices that help prevent the spread of Ebola virus disease (EVD), in the city of Voinjama, in Lofa County, Liberia in this April 2014 UNICEF handout photo. — PHOTO: REUTERS
The World Bank said on Monday pledged to make available $250 million to Guinea, Liberia and Sierra Leone for the fight against the deadly ebola virus.
The West African nations are fighting a desperate war to contain the scourge of the a deadly Ebola outbreak, which has claimed over 800 lives in the last count.
According to an AFP report late On Monday, World Bank president Jim Yong Kim, himself an expert on infectious diseases, said he has been monitoring the spread.
The boss of the Bretton Wood body added that it was "deeply saddened" at how the ebola outbreak was contributing to the breakdown of "already weak health systems in the three countries".
"I am very worried that many more lives are at risk unless we can stop this Ebola epidemic in its tracks," Kim said.
The funding will help provide medical supplies, pay medical staff and take care of other priorities to contain the epidemic and try to prevent future outbreaks, the World Bank said.
The death toll from the Ebola outbreak on Monday reached 887 after 61 more fatalities were recorded, according to the World Health Organisation.