Tanker Fire Disaster Averted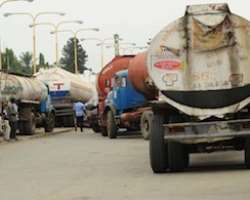 Tanker Fire Disaster Averted
Fire disaster was Friday morning averted at Ketu Bus stop, Lagos, southwest Nigeria, by the combined effort of the Lagos State Fire Service and Lagos State Emergency Management Authority, LASEMA, after a kerosene tanker lost control and crashed in the area.
The kerosene tanker with Lagos plate number, MUS 253 XE, had a brake failure under the Ketu pedestrian bridge and crashed
An eye witness, Tayo Ogundimu, told P.M.NEWS that the accident occurred around 7:49 a.m.
"The tanker accident occurred this morning around 7:49 a.m. It think is was trying to gain a right of way with a commuter bus, and negotiate its way into the service lane inward Mile 12, when it crashed.
"Its brake failed and the driver tried to stop the tanker by ramming it into the pillars of the bridge, but it unluckily missed and tumbled, blocking the way," Tayo told our correspondent.
Another witness confirmed that nobody was injured and that he saw the driver coming out of the tanker unhurt.
At the scene of the accident, people were seen scooping kerosene from the tanker with the police trying to control the crowd.