Confab: Southern delegates reject 18 per cent derivation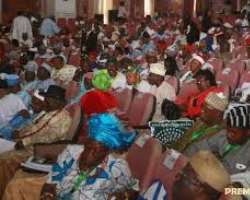 Confab: Southern delegates reject 18 per cent derivation
National Conference once again was sharply disagreed along geopolitical divide on the key issue of derivation.
The Southern delegates rejected the 18 per cent derivation proposed by the Consensus Group of the Conference from the current 13 per cent, which was recommended by the Conference Committee on Power Devolution.
According to reportrs from the conference, the Group also recommended five per cent revenue allocation for solid minerals development and another five per cent for the North East due to insurgency in the area by Boko Haram.
Reading the position of the zonal leaders, Prof. Ibrahim Gambari said the group after their meeting recommended 18 per cent against the proposed 13 per cent by the committee and also five percent for development of solid minerals and five per cent for the North East due to insurgency.
Gambari explained to the conference delegates that the recommendation was just an avenue to reach consensus in order not to polarise the conference.
The Southern delegates vowed to vote against the recommendation of the zonal group on Thursday when the matter will be considered.
When the session resumed on Wednesday the Conference Chairman, retired Justice Idris Kutigi, informed the conference delegates that the zonal leaders were still meeting in order to resolve the contentious issue of derivation.
Before the zonal leaders made their recommendation known to the conference, delegates at the Conference had urged the government to subject the outcome of the conference to referendum.
Nasiru Kura said it is only a referendum that will enable Nigerians to express their wishes on the recommendations of the conference.
Delegates at the conference have often broken along the Northern an South divide, further amplifying the growing differences between the two geopolitical entities on how the countery should be run.
The North is often uncomfortable with issues that emphasise the autonomy of states, zones or regions, especially those that relate to derivation and self-determination .