SENATE GETS 18 NAMES AS MINISTERS DESIGNATE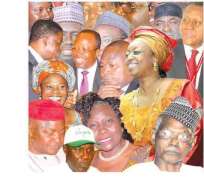 –>
Several lists and names yesterday made the rounds at our nation's capital, as anxiety mounted over the new cabinet being constituted by Acting President Goodluck Jonathan. However, it was learnt that a list of the first batch of nominees has been sent to the Senate President. Some names that are on one list do not appear on other list(s), while some other names appear on more than one list.
Sources close to the Senate leadership confirmed the list has 18 names. However, the Information Committee chair, Ayogu Eze, while briefing reporters on Tuesday, said the official list will be in the Senate by today.
Names on the list include familiar faces like Adetokunbo Kayode, who is likely to return as justice minister, Godswill Orubebe, Nuhu Somo Way, Mohammed Daggash, Odein Ajumogobia, Diezani Allison-Madueke, and Bello Masari, former Speaker of the House of Representatives.
A few dose of surprises
There were a few surprises on the list such as Joy Anenih, wife of Tony Anenih; and Murtala Yar'Adua, an oil magnate, who is one of President Yar'Adua's nephews. Neither of the two has held any significant political post prior to their nominations. There are also Labaran Maku, former deputy governor of Nasarawa State and student activist; and Segun Aganga, managing director at Goldman Sachs, one of the world's largest investment bank.
Mr. Aganga, who hails from Ekiti, is also the co-founder of the Nigerian Leadership Initiative. Although he spends most of his time abroad, he is widely regarded as one of the soundest economic minds in Nigeria. His nomination supports the assertion that the Acting President intends to fill his cabinet with technocrats and not political jobbers. It is believed that Mr. Aganga will be charged with either the national planning or finance portfolio.
Mr. Eze, while speaking to journalists, said that there would be no special considerations given to anyone during the screening process.
'The screening will be as vigorous as it has always been,' he said. 'Returnee ministers will be taking more questions based on their performance during their stewardship. Everybody will answer questions on what he or she has done or failed to do.
'Those who will be coming back will have the additional responsibility of answering for their stewardship while in office. That, of course, will be taken on board.'
Mr. Eze said the Senate postponed its vacation by one week so that they can finish with the screening of the ministerial nominees and get the government running in full swing.
The final list is still expected to be submitted before the end of the week and has been delayed by several last minute wranglings. Five governors visited Mr. Jonathan yesterday. These include Gbenga Daniel of Ogun State, Isa Yuguda (Bauchi), Peter Obi (Anambra) and Theodore Orji (Abia).