Vote Rochas Club Honours Jude Ejiogu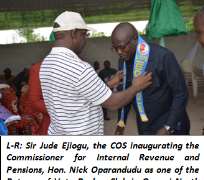 The Chief of Staff and Commissioner for Special Duties in Imo State, Sir Jude Ejiogu has bagged THE PILLAR OF VOTE ROCHAS CLUB AWARD for showing an exemplary mark as a leader to be trusted who has not allowed himself to be carried away by the value attached to his office.
The award was bestowed on him on Saturday, June 28th, 2014 during the inauguration of Patrons of the club in Owerri North local government area.
Conferring the award on Sir Ejiogu, the state Coordinator of the Club, Rev. (Dr.) S.C Nwulu said that the honour was in recognition of his support to the group maintaining that the selection of the awardee as one of the state Patrons as well as LGA Pillar of the group was a confirmation of his love for the club.
Furthering, Rev. Nwulu chided those envying Sir Ejiogu's appointment as state Patron of the club to desist from peddling campaign of calumny and challenged them to show their commitment by investing in the club and humanity instead of criticizing individuals out of greed.
He therefore thanked the people of Owerri North LGA for supporting the rescue mission administration of Governor Okorocha over his laudable achievements and described the Chief of Staff, Sir Ejiogu as a grass root politician who has solution for his people's needs.
Receiving the award, the Chief of Staff, Sir Ejiogu expressed happiness to members of the club for finding him worthy of the recognition and charged everyone to unite together and as well maintain the tempo, assuring them of his readiness to continue to support their programmes.
He therefore appealed to them not to relent in their bid to continue to support the rescue mission government in the state disclosing that Governor Okorocha's giant strides in less than three years is enough for Imolites to appreciate and reciprocate.
The COS reminded them of the desperation of the opposition parties in the state to grab power at all cost advising them to resist all their antics of deceit pointing out that once they succeed, the free education, CGC, Road construction and other social amenities the present government has embarked upon would be suspended thereby returning the poor masses back to Egypt which according to him, Governor Okorocha has tried to erase.
In their separate speeches, the Owerri North LGA Coordinator of the club, Comrade Reginald Oparah and the Youth Leader, Prince Iyke Igwe commended the COS for distinguishing himself as a good leader with an open heart and called on other individuals in the area and beyond to emulate him while pledging their unalloyed support for Governor Okorocha's administration.
Ikenna Onuoha CPS To Chief Of Staff
2014-07-01 100759
2014-07-01 100818
2014-07-01 100837
2014-07-01 100852
2014-07-01 100907
2014-07-01 100926
2014-07-01 100944