World Cup: Ghana president hints of committee to investigate Black Stars early exit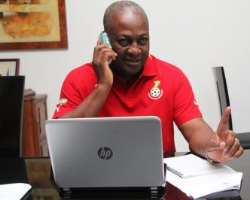 World Cup: Ghana president hints of committee to investigate Black Stars early exit
President John Mahama has hinted that there will be the need to set up a committee to investigate the circumstances that led to the painful exit of the Black Stars at the group stage of the World Cup in Brazil.
Ghana for the first time failed to progress beyond the first round in a World Cup, having impressed on two previous occasions in Germany 2006 and South Africa 2010.
Addressing the media in Malabo, equatorial, Guinea, where he was attending an AU summit, President Mahama said there is the need to investigate what happened right from preparation, through the build up to the World Cup to when they went to Brazil and what happened in Brazil till they came back.
The President however expressed confidence in the team, urging the nation to take heart and continue to support the team even in their loss.
According to him, the Stars can make it in the future.
This he said, they demonstrated by playing what is considered the most exciting match in the World Cup against Germany.
Meanwhile, the Managing Editor of the Insight newspaper, Kwesi Pratt Junior has described as absolutely necessary, the call by the President of a committee to investigate the performance of the Black Stars.
In his opinion, the players exhibited a great deal of indiscipline and lack of patriotism.
According to him, the team played for money instead of national pride.
In a related development, the Ghana Bar Association has criticized government's decision to airlift $ 3 million cash to the Black Stars players in Brazil.
Government airlifted the money to pay the appearance fee of the Black Stars players after the team threatened a boycott of Thursday's match which they eventually lost to Portugal, hence their elimination from the tournament.
A statement signed by the GBA President, Nene Amegatcher noted that government's decision to bow to the pressure from the Black Stars players does not only break the law but also sets a bad precedent for the citizenry.
According to the statement, government must be seen to be leading the line in playing by the rules set by law and institutions of state and not assist a group of people to break the law.