Shocking discoveries as another ritualists' den uncovered in Lagos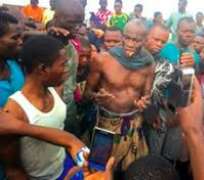 The dark world of a ritualists' den was EXPOSED in Lagos Friday.
It was a lucky day for eight ritual victims as they were freed from the stronghold of their captors.
It was the day of reckoning for the group of human blood suckers as kidnap of innocent seven year old, Emeka Chukwu, finally gave them out.
yesterday, uncovered at Ogolonto area of Ikorodu Lagos, with at least eight victims, said to have been kidnapped from different parts of the country, rescued.
The creepy world of the riualists came apart when woman identified as Mrs Rosemary Chukwu, who resides at 33, Omologede Street, behind C&S Primary School, allegedly abducted a seven-year‑old primary school pupil, Emmanuel Emeka, on his way to fetch water from a public well at about 6.30 a.m.
According to accounts, Chukwu had kept the boy inside her toilet where she tried different ways to hide the boy away.
According to an account, she had feigned to be in a prayer session with her four children in apparent ensure to prevent her co-tenants from hearing the abducted boy's cry for help.
It was learnt that when Emmanual's mother waited for him and for a reasonable time and he did not return, sh raised the alarm, which attracted the neighbourhood who joined in desperate search for the missing boy.
Mrs Chukwu was reportedly among the early callers who even suggested areas where the search party could search for the missing boy.
But what raised thee suspicion on her was some persons had earlier sighted with a suitcase on her head, accompanied by her children.
It made people suspect her because it unusual for women to own suitcase.
This made the area boys in that area to s follow force a search in her residence.
They followed her to 319, Lagos Road, Ikorodu, where the church is situated, where they saw her pastor waiting for her. But on sighting the crowd, he took to his heels.
"But for the arrival of Policemen from Owutu division, the woman would have been lynched. The angry mob also attempted to set the church ablaze but were also prevented by the policemen. They, however, succeeded in torching some parts of the property."
Through the search, Emmanuel was recovered from his kidnapper – Mrs Chukwu, which led to more inquisition and subsequent actions that established the connection. .
This led to the discovery of another building, located at 7, Oshodi Street, alleged to be used for ritual purposes by one Pastor Ernest Nwankwo was discovered.
The building was behind the church. It was gathered that some miscreants uncovered the building while they were chasing the fleeing pastor.
The mob was said to have forced some apartments in the building open, where they found an undisclosed number of persons in chains.
The victims were said to have recounted how they were kidnapped from Anambra, Bayelsa, Ogun and Oyo states at different times. One of them, according to eye witnesses, who pleaded anonymity, said she was kidnapped 11 years ago.
One of the victims, a 52-year‑old man, who identified himself simply as Onwurah, alleged that his wife had a hand in his kidnap, saying he had spent two years in the enclave. . He said he used to be a commercial bus driver before he was abducted and brought to Lagos.
The man said he could not join others to escape because the key to his chain could not be found. When he was asked if Pastor Ernest was responsible for his abduction, he charged at him, saying: "Do not call him a pastor. He is not. He is a killer and a ritualist."
 
One of the victims is a woman aged about 50 who said she was kidnapped along the Lagos/Ibadan expressway while returning from a vigil, according to eyewitness accounts.
The rest were males, which looked malnourished with sunken eyes- telltales of long period of incarceration.
According to local residents, "some 'Ghana must go' bags of currencies were recovered, some of which had been looted by the area boys.
there were bloodstains around the building and a particular apartment where those alleged to be in chains were kept.
A report said there were also bowls of blood, ostensibly drained from the ritualists victims.
The Lagos State Police Public Relations Officer, Ngozi Braide, could not be immediately reached for confirmation but police sources confirmed that the female suspect was in Police custody and that the seven-year‑old boy Emmanuel had been taken to a hospital, while Pastor Ernest Nwankwo was said to be on the run.