Emefiele to brief Reps on new capital requirements for Bureau de Change operators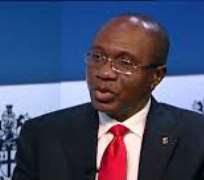 The House of Representatives, on Thursday, directed the Governor of the Central Bank of Nigeria (CBN), Mr Godwin Emefiele, to appear before the House Committee on Banking and Currency, chaired by Honourable Jones Chukwudi Onyereri, 'for a full brief on the policy somersault', referring to the moves by the CBN to sanitise the foreign exchange market through the directive to Bureau De Change (BDC) operators to raise their operating capital base to N35 million from N10 million.
The House resolution was sequel to a motion moved by Honourable Ibrahim Shehu-Gusau, entitled, 'Urgent need to halt the recent increase in capital base for bureau de change by 25 per cent.'
While leading the debate on the motion, he noted that the CBN raised the minimum capital requirement for operation of BDCs in Nigeria from N10 million to N35 million, noting that 'the mandatory cautionary deposit was equally reviewed from N3 million to N35 million, which shall be deposited in a non-interest-yielding account in the CBN along with the licensing fee.
He said the bureau de change had provided job opportunities for millions of Nigerians, adding that the new rule would send many forex operators out of business and create more unemployment.
The lawmaker further observed that the increments were outrageous against the backdrop that the CBN would also reduce the amount of dollars issued to BDCs from $50,000 to $15,000 per week.
Supporting the motion, Honourables Aminu Suleiman and Karibo Nado said, the policy was not in the interest of the people.
Honourable Nado added that, the policy would also increase 'the price of the dollar against the naira because we all know that this development will lead to a high demand for dollar'.
On his part, Honourables Aliyu Madaki and Segun Odebunmi, maintained that the policy, if allowed, would affect everybody, argue that it should be suspended immediately.
The other lawmakers, who spoke however, opposed the motion on the grounds that the CBN policy should be supported by all and sundry as they claimed that the policy would provide sanity in the forex business.
Those who opposed the motion include: Honourable  Linus Okorie, Sunday Karimi and Friday Itulah.
When the motion was put to vote by Honourable Aminu Tambuwal, it was unanimously supported by the majority of members present at the sitting.