Higher food prices nudged up inflation rate to 8% in May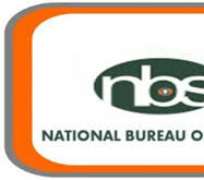 Nigeria's year-on-year consumer price index (CPI) rose marginally to eight per cent in May compared to 7.9 per cent the previous month, helped by significant increases in food prices.
According to the CPI released by the Nigeria Bureau of Satistics on Monday,
the increase in the headline index to higher food prices which edged to 9.7 per cent in May up from 9.4 per cent in April was the main push on the inflation.
CPI measures inflation..
The monthly CPI report released by the NBS showed that "food prices increased by 9.7 percent in May, up by 0.3 percentage points from rates recorded in April.
"As observed by the Food sub-index, food prices increased for the third consecutive month (year-on-year) in May. This is also the highest year-on- year increase observed this year."
It said core inflation increased at a faster rate in May compared to the previous month as prices rose by 7.7 per cent (year-on-year) or 0.2 percentage points higher from the rate recorded in April.
"This is the highest year-on-year rate recorded for the Core sub-index this year. Groups that contributed to the increase in the Core sub-index include furniture and furnishings, garments, rental prices, as well as liquid and solid fuels," it said.
The report noted that prices were pushed higher as a result of "higher prices in bread and cereals, fish, dairy, fruits, and vegetable groups."
It also stated that the price increases in the food sub-index were however weighed down by relatively slower increases in meat, oils and fats, potatoes, yams and other tubers classes."
However, urban inflation increased by 0.3 per cent to 8.2 per cent in May while the rural component increased by 7.8 percent or 0.3 percentage points in May compared to the previous month.
On a month-on-month basis, movements in the urban and rural indices largely mirrored the headline index this year. In May, the urban and rural All-items indices rose by 0.8 per cent and 0.77 per cent respectively, which is about 0.2 percentage points higher than rates recorded in April.