Imo CP: Release Activist Samuelson Iwuoha Now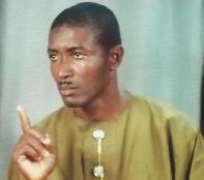 The Youths Against Human Rights Violation And Corrupt Practices (YAHVCP) demands theimmediate release of Citizen Ikenna Samuelson Iwuoha , his wife and 14 other persons who were unlawfully arrested by the Imo State Police Command since the 3rd of June 2014. Iwuoha survived an assassination attempt at his Ikenegbu Layout residence in Owerri after gunmen came looking for him in his home and left after killing one.
The police that were called in for investigation started indiscriminate arrest of youths in the neighbourhood and detained them illegally. Rather than conduct investigations, the police are carrying out the PLAN B of politicians by branding the activist a cultist and planning to charge him to court for murder so as to silence him .
Mr Samuelson had severally criticized a top politician in Owerri for looting Imo tax
payers money and had raised alarm that the politician and his sister threatened to assassinate him. On the 18th of December 2013 he issued a press statement published in several media houses tagged corruption in Imo Speakers office my life is in danger. He told the world that should any harm happens to him and members of his family that the Imo House of Assembly Speaker, the Chief of Staff to the Speaker Mr. Kodichi Anamekwe, the Acting SSA Media to the Speaker Mr. Emeka Ahaneku, the Special Adviser on Administration Mr. Kingsley Nkemka, the Special Adviser on Political matters Mr. Kingsley Ndubueze should be held responsible. The police never bothered to investigate his claims.
Then on the 29th of April 2014, one Ahmefula Amadi who Iwuoha has since exposed as Mr Emeka Ahaneku's pen name released a press statement published in several media houses and blogs tagged Iwuoha plans to commit suicide if arrested claiming that he has uncovered the perfected plans by Mr. Samuelson Iwuoha, to forcefully take away his life in the event of any arrest occasioned by his inability to produce evidence of his fraud allegations against the Speaker, Rt. Hon. Benjamin Uwajumogu. Again the police never bothered to investigate this claim.
Also on the 1st of May 2014 Citizen Samuelson Iwuoha dismissed the report that he was planning to commit suicide, saying that aides of the Speaker of the Imo State House of Assembly, Rt. Hon. Benjamin Uwajumogu, sparked the rumours as a smokescreen to pave the way for his murder. He said in a statement sent to newsmen by e-mail and published in several media houses : 'Imo Speaker and his corrupt office have blackmailed me enough, yet their blackmails have refused to stick.
They have concocted several stories against me, yet Imo people and Nigerians have refused to believe them. Now they have concluded plans to kill me after abducting me. But they have decided to be pro-active by deceiving the public with a press release signed with a fictitious name that I want to commit suicide. He then called on the relevant security agencies in the country to ensure that his safety and that of the enlarged Iwuoha family is guaranteed.
He alleged that Speaker Uwajumogu and his sister, Ms. Chidinma Uwajumogu, had few weeks ago threatened to kill him 'for exposing the criminal activities of the Speaker.' The activist asked Imo people and Nigerians to specifically hold Chief Benjamin Uwajumogu and his sister Chidinma Uwajumogu as well as the named aides responsible should anything whatsoever happens to him or any member of his family. The police still did not care to investigate this claim.
On the 3rd of June 2014 the hired killers came to his house leaving one person dead. Why is the police arresting the activist now? The same police that never bothered to investigate Iwuoha's claims of threat to his life are now planning to charge the activist for murder and branding him cultist. Who is fooling who? Iwuoha is not a cultist and has no criminal record.
This action of the police against Iwuoha is part of the despotic measures of corrupt politicians in Imo State aimed at suppressing activists right to protest and resist their mindless looting of the state and their anti-poor policies. This characteristic despotism of the Imo State government, which further confirms its lack of commitment to genuine democratic culture, is a throwback to the era of military absolutism with its associated abuse of the fundamental rights of people to freedom of expression, among others.
The Imo State governmen has become so panic and grown goose pimples over the inevitable mass backlash against its mindless looting of the Imo treasury. This is why, besides the
unjust arrest and unlawful detention of anti corruption activists in the State, they have resorted to tagging them as cultists and murderers so as to jail and silence them.
We strongly assert that Nigerians have fundamental rights to freedom of speech and protest against any anti-people action of the government, let alone this present Imo State government that is protecting corrupt politicians and giving them appointment upon appointment. We call on labour, activists, human right lawyers, the press, pro-masses organisations and individuals, nationally and internationally to condemn the unlawful arrest and detention of Citizen Ikenna Samuelson Iwuoha and demand for his immediate release.
Send RELEASE IWUOHA NOW text messages and phone calls all over the world to the Imo State Police Commissioner Mr Ali on + 2348033104650. Join the Fight for freedom, Join the struggle. Say No to human rights abuse. Release Iwuoha Now . Aluta Continua ,Victoria Ascerta
Signed

Kenneth Uwadi

YAHVCP
National Coordinator
[email protected]