Committee on Chibok abduction denies allegation of manipulation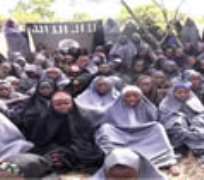 The Presidential Fact-finding Committee on the Abduction of Chibok Schoolgirls has debunked media reports insinuating that the Presidency is on a mission to either frustrate or manipulate the report of the committee.
  In a statement Thursday in Abuja, the committee's Spokesperson, Mr. Kingsley Osadolor, who stated that it is not being teleguided, noted that no Presidency official has been privy to the minutes of the proceedings, adding that since the committee commenced work following its inauguration on May 6, it has issued media statements and granted interviews as the need arose. 
  'In other words, the fact-finding committee has communicated through its designated member/spokesperson', he added.
  According to Osadolor, since the committee's inauguration on May 6, there has been no meeting between the committee or any one or more of its members and the Presidency. The committee has never been invited to give any secret or open briefing on its work or findings so far.
  Osadolor pointed out that the fact-finding committee is now in the home stretch of its assignment. No staff of the Presidency has been obliged with a snippet of what the committee is working on. Furthermore, the committee has not issued any interim report