Tania Omotayo, Wins Wizkid's Heart Again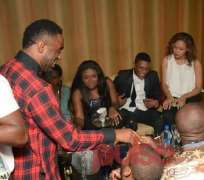 Months ago, Wizkid and his Ex-Lover Tania Omotayo, were reported to have broken up, and the duo proved this to be true in an interview, where he said Tania was still friend.
After months of separation, with everyone thinking that the relationship finally over, well that might not be true as Wizkid was spotted with his beau Tania Omotoya.
The two were recently spotted together last Thursday at the Pepsi Samba party, and they were together all through, and the only time he left her was when he stood up to perform.
It would be recalled that, Tania has been spotted severally with different celebrities at events. What has she been up to?
We cant say, but she sure has finally won Wizkid's heart back.