Boko Haram kills 17 in Borno village attack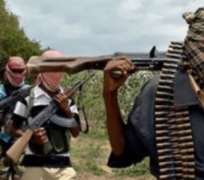 The Islamist group Boko Haram has been accused of killing 17 people in an attack on Alagarno, a village in Borno State, close to Chibok, where hundreds of schoolgirls were seized on Apr 14.
The attack comes a day after 118 people died in a twin bomb attack in the central city of Jos, Plateau State, believed to have been masterminded by Boko Haram insurgents.
In the latest attack, Boko Haram fighters reportedly spent hours killing and looting in the village of Alagarno.
The abductions of more than 200 girls caused international outrage and have put pressure on the Nigerian authorities to deal with the threat from Boko Haram.
Witnesses in Alagarno said the suspected Boko Haram fighters arrived close to midnight, and killed and looted for hours before leaving in stolen vehicles.
One survivor told the BBC that every single building in the village had been torched. BBC