SIMA 2010: Traces of glamour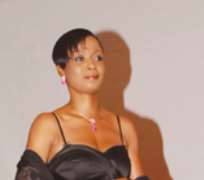 What was meant to be a night of awards for movie stars turned out a fashion parade in the nation's capital.
The Stars in Movies Awards was held at the Sheraton Hotels, Abuja, last Saturday and it was a night to showcase Nollywood's best.
A night of glamour, it was also a roll call of the FCT's crème-de-la-crème.
Politicians, actresses, businessmen and professionals from all walks of life were present to celebrate the achievements of the Nigerian film industry, especially the emerging Kano 'tigers' in the movie world.
According to Lavonne Cele-Tawo, the organiser of the awards ceremony, who is also the publisher of Best Moments magazine, it was more than giving awards.
"We wanted to celebrate the many feats of women who have made impact on the lives of Nigerians," she says.
"We also wanted to celebrate our film stars, who have spent over 10 years in the sector. Moreover, Stars in Movies Awards is to showcase glamour, panache and beauty that are associated with Nollywood.
"Our dress code was: Dress Glamorous, because we wanted the best of people's wardrobe and we got it."
Known to be very fashionable, Cele-Tawo gives tips on how to turn out glamorous for occasions:
Have an idea of the dress code
Blend colours well
Choose the right accessories
Don't over-dress, the idea is to turn out simple but glamorous
Story by nollywoodgists.com