DATA BANK BILL NEARING CONCLUSION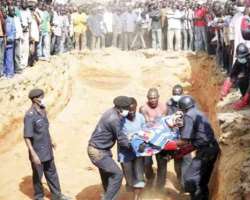 The senate has concluded public hearing on a bill seeking to officially establish a DNA data bank in Nigeria.
When passed, the bill will establish a national DNA data bank and a National DNA Bureau which will obtain DNA prints of Nigerians. The DNA prints collected by the Bureau will be used to investigate crime, identify unknown corpses, determine paternity, and predict origins of persons.
The bill is sponsored by Erhiawarie Eferakeye (PDP Delta State); a Professor of Pharmacology and toxicology from the University of Benin.
According to Mr. Eferakeye, DNA print will aid the police immensely in resolving crimes because unlike the use of finger print to identify people, the DNA print is more accurate because of its specificity, DNA sources are readily available in crime scenes.
"Finger prints have been used for that purpose but DNA goes beyond that," he said. "DNA can be gotten from biological substances left behind like hair strands, saliva, sweat, and even finger prints." He said most advanced nations have upgraded to the use of DNA samples in resolution of criminal cases and distinguishing individuals in cases of people burnt or destroyed beyond recognition, meanwhile in Nigeria, the police still use rusty investigative methods.
"Many times, we have had mass burials because people cannot be identified but with DNA prints, we can identify bodies no matter how long they have died," Mr. Eferakeye argued.
Applause for the bill
The head of police forensic unit in Lagos, Egune Vincent Awka, who represented the Nigeria Police, applauded the bill saying that now is the best time to pass such bill. Mr. Awka said the bill will greatly enhance the performance of police. "We are miles behind the criminals we are after (chasing),"
Mr. Awka, who is also a medical doctor, said. He said the force had already started a DNA lab by sending a couple of police officers to a lab in London UK, for a six months training on the management of DNA samples. He said the Nigeria Police have already acquired some equipment to bank the DNA profiles they will obtain but power supply has been a major setback for them because the samples are stored at a temperature as low as -80 degrees centigrade.
He however complained that the bill does not provide specifically for the kind of DNA which is very useful in detection of criminals. "For us in the police, this is an omnibus bill because it combines the DNA we use in policing with that used for medical and agricultural purposes. This is where we disagree because the part of the DNA which we use for policing is different from the one we use in agriculture and medicine."