Sepp Blatter to stand again as FIFA president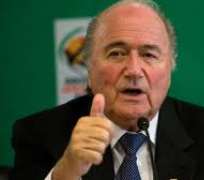 FIFA President, Sepp Blatter, plans to run for a fifth term as the boss of global football, a Swiss newspaper, Blick said on Friday.
"I want to do this because things aren't over yet. My mandate is running out, but my mission is not finished," the 78-year-old was quoted as saying by the tabloid.
Blick said that Blatter's comments came in response to questions about his future during a debate it had organised between representatives of the Swiss business and sporting world at the Zurich headquarters of its publisher, Ringier.
FIFA, which is also based in Zurich, has been steered by Swiss citizen, Blatter, since 1998.
His decision to show his hand comes just weeks before the World Cup kicks off in Brazil on June 12.
The election will be held in 2015.
The only candidate to have entered the race formally so far is Frenchman, Jerome Champagne, an ex-diplomat and former secretary general of FIFA, who left the organisation in 2010.
Champagne, 55, has said that if his former boss, Blatter, enters the race, he will pull out.
All eyes in the upper echelons of world football will now be on Michel Platini, head of European governing body UEFA.
The 58-year-old former France international has said that only he can beat Blatter in the race for the FIFA leadership.
But Platini, in charge of UEFA since 2007, has still not said whether he will run in next year's election.
In March, Platini said that he was likely to announce his decision after the World Cup, which ends on July 13.
Disclaimer:

"The views/contents expressed in this article are the sole responsibility of

The Rainbow

and do not necessarily reflect those of The Nigerian Voice. The Nigerian Voice will not be responsible or liable for any inaccurate or incorrect statements contained in this article."