I won't sleep until we rescue abducted girls: Jonathan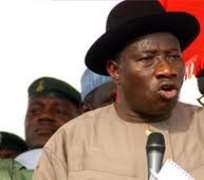 President Goodluck Jonathan on Friday reaffirmed Federal Government's commitment to rescuing the girls abducted from a secondary school in Chibok, Borno State.
The president said he would not sleep until the students are returned safely to their parents.
Jonathan, who spoke at a world press conference at the World Economic Forum (WEF) on Africa which ended in Abuja on Friday, said that the government had taken several secret security measures in the quest for the rescue of the girls..
He is hopeful that with the global attention on the incident, the terrorists have no choice but to free their hostages.
The president said, "Let me also use this unique opportunity to thank all of you who have shown commitment and concern – those of you in Nigeria and those of you outside this country – to continue to press on that these terrorists must bring back our girls.
"And they (terrorists) have no choice because I am quite pleased that the whole world is singing the same message that they must bring back our girls.
"And there is no where they will take these girls to, they have no hiding place, we must work with the global community that is quite keen to make sure that we bring back these girls.
"We plead with the parents as a father and the President of this country, I feel pained and I don't sleep with my two eyes closed; and I will not sleep with my two eyes closed until these girls are brought safely back to their parents."
Jonathan said he had been talking to the presidents of Cameroon, Chad, Niger, Benin for support although he believes the girls are still within Nigeria.
"The attackers are in a part of Borno State described as Sambisa forest. It is a forest area and we are working with the experts that will use remote sensors to see that wherever they are we will see.
"So, the best we can say is that they are within the Sambisa forest area. Of course I agree that they are stories that they have been moved outside the country but if they move that number of girls to Cameroon, people will see them. So I believe that they are still within Nigeria."
Jonathan also used the opportunity to respond to the charge by his traducers that he administration was slow in responding to the abduction incident.
"There is no slow response at all; it is a misconception. The response is not slow and I have explained this; the only thing we did not do because we felt it was not necessary then was to video the aircraft moving, the military people and the fighter helicopters," he said.
The president did not rule out the possibility of political solution to Boko Haram menace but that the terrorists must also be made to know that they would pay for their crimes as it happens in other developed parts of the world.
"Terrorists are no ordinary criminals. Their own is based on false ideology, sometimes based on religious sentiments, sometimes based on political sentiments or some kind of liberation issues. So it is not simply political but it is complex, even much more than politics.
"Basically, we need to combine so many different factors to resolve the terror crisis; and the assistance of the whole world is necessary because if terrorists attack anywhere in the world, it is an attack on all of us.
"Terrorists must also know that they cannot do certain things and get away with it. If you commit offence and you know that government will get you one way or the order, you will also be mindful. I think the only thing is that when people get involved in suicide bombing that means they are ready to die. So your arresting them does not really stop because of the way they have been able to brainwash their followers.
"Yes, political solution is there. Some elements of politics are there but terror all over the world is beyond politics. It is beyond economics. Sometimes people say it is because of the economic situation in the country.
"Yes, we have poor people around the world even in Nigeria but terrorism is a little beyond poverty because if you see the weapons they are using, the vehicles, even to sustain that army, and the logistics, the movement and fuel they need, the food they need, that means a lot of money is coming in from one source or the order. So it is just not issue of poverty.
"Yes, we agree when young people have no source of income the likelihood of criminals recruiting them into criminal gangs are higher than in a society where they have means of income and we are addressing it.
"We are co-operating with state governments on programmes but some of them we cannot continue because terrorists are destroying them. So we must first solve the security problem before development programmes."
Meanwhile, Amnesty International (AI) has lashed at Nigeria's military over the kidnapped girls. It said the military had advance warning of the attack on the school at which some 270 girls were kidnapped but failed to act.
Amnesty International said it was told by several credible sources that the military was informed of the attack more than four hours before the attack took place.
However, the Minister of Information, Labran Maku, in an interview with CNN refuted the allegation saying that there was no way the military will ignore such a warning.
In a related development, experts from the U.S .and UK have arrived in Nigeria to help locate and rescue the abductees.
Information Officer at the US Embassy, Abuja, Rhonda Ferguson-Augustus, confirmed their arrival.
US Embassy stated that the US Government via the team would do all it takes to rescue the girls and also deal with issues surrounding the Boko Haram insurgency.
"So what we've done is that we have offered – and it's been accepted – help from our military and law enforcement officials. We're going to do everything we can to provide assistance to them. In the short term, our goal obviously is to help the international community and the Nigerian government as a team to do everything we can to recover these young ladies.
"But we're also going to deal with the broader problem of organisations like this that can cause such havoc in people's day-to-day lives."