Jonathan Gradually Winds Down Yar'Adua's Regime, Sacks Cabinet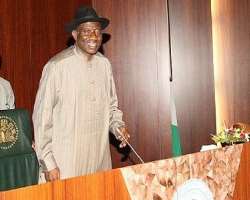 PHOTO: NIGERIAN ACTING PRESIDENT GOODLUCK JONATHAN.
San Francisco March 17, (THEWILL) – Nigerian Acting President, Dr. Goodluck Jonathan on Wednesday evening sacked Nigerian cabinet Ministers without giving any reasons just five weeks after he assumed full executive powers.
However a security source, who chose to remain anonymous told the THEWILL that Jonathan has received a full report on the current state of President Yar'Adua from the new National Security Adviser, Gen. Aliyu Gusau which showed that Yar'Adua can not make it back to office except only a miracle happens. The source would not comment further when we sought more explanation.
Reports from the weekly Federal Executive Council of the Federation meeting said the Acting President dropped the surprise dissolution bombshell at the end of marathon deliberations which started at 10.35 a.m. and lasted for about six hours.
The first noticeable sign that things were not okay was noticed when former FCT Minister Adamu Aliero, who was one of the first to emerge from the meeting was overheard telling a State House Correspondent, who had gone to him and whispered something into his ears that he was now 'powerless.'
"My brother, I am powerless now, we have been dissolved," Aliero said.
Other Ministers wore very long faces and refused to talk to reporters, as they made straight for their vehicles. However, former Labour and Productivity Minister Senator Ibrahim Kazaure said, "I thank the President for giving me the opportunity to serve this nation. I have no regret taking any action I took in the course of his service. As a career politician, I am going back to the trenches to continue from this point."
Information and Communication Minister Professor Dora Akunyili who formally announced the dissolution of the Council during a press briefing said the Ministers are to hand over to the Permanent Secretaries in their various ministries.
Akunyili did not give any reason or timeline for the reconstitution of the cabinet.
"Today, the Acting President Goodluck Ebele Jonathan dissolved the Federal Executive Council. He did not give any reason and so I cannot give any reason," she added.
Nigerians and political analysts had expected Jonathan to dissolve and reconstitute the cabinet because of the open division amongst Nigerian Ministers following the power struggle at the Presidency due to President Umaru Yar'Adua's grave illness.
Last week he removed a Yar'Adua key appointee as National Security Adviser and replaced him with Aliyu Gusau.
|
Article source