Ex-Gov. Donald Duke Rekindles Fela's Lyrics At Covocation Ceremony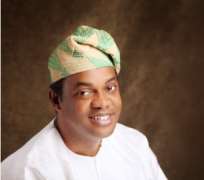 Former governor of Cross River state, Mr. Donald Duke is not a new person in the entertainment world as he would always be remembered for with his modification of the state into a tourism site with the creation of the 'Tinapa.'
At the just concluded 11th convocation ceremony at Babcock University, the ex-governor in his speech, once again expressed his love for entertainment when he rekindle a part of the late Afro beat Legend Fela Anikulapo Kuti's lyrics from the hit song 'ODOO,' which he used to drive home his message.
In his words, "Fela's song, Overtake Don Overtake Overtake, best sums up Nigeria's obviously unrealizable 'vision 202020' joining the prestigious club of 20 nations economy in 2020. But by some fluke of thought, we aspire to overtake 137 other economies within the period. That no doubt would amount to overtake don overtake overtake." Can we help saying 'watch and pray?'
Click the link below to go to...
Uche Jombo With Hubby, Kenny Rodriguez On Vacation In US
Armed Robbers Take Over Lagos In Sunday's Multiple Robbery Attacks, 2-Year-Old Boy, 2 Policemen Shot Dead
'Repented Smoker' Actress, Tonto Dikeh Remembers Late Mum
Nigerian Actress Calista Okoronkwo Reincarnates Into The Movie Industry
Petroleum Minister,Diezani Alison-Madueke,Suffer Strange Ailment,Receives Treatment In London Hospital
Stella Damasus, Daniel Ademinokan Partner **Stella Is Spirit Of God Filled--Daniel **We Felt God's Presence--Stella
Controversial Singer, Timaya Flaunts 3-Month-Old Daughter
DAVIDO, WHIZKID FLEX MUSCLES IN NEW YORK
SHAN GEORGE CLEARS AIR ON AFFAIR WITH MIKEL