What do I do to prevent getting pregnant?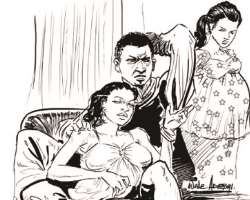 I'm 16 and in Senior Secondary School. In the last couple of months, I have been receiving different kinds of interests and attention from both young and old men.
Although, my mother has never ceased to warn me about the consequences of allowing men come too close to me, I can't help the delightful feelings I get whenever I get such attention from men.
I do have a boyfriend. All we have done is kiss and a little bit of romance. But, he is beginning to complain and threatening to leave me for another girl who will give him everything he wants from her.
He is in his final year and would be writing his secondary school leaving examinations from April. I'm in SS2.
My fear is: If I don't give in to his demands now, I might lose him completely once he leaves school. I love him too much and don't want another girl taking my place.
He has assured me that once, won't get me pregnant and that there are drugs he would give me subsequently that would prevent pregnancy. My friends, who have gone all the way, assure me of such drugs.
Also, I'm tired of being made fun of by my friends who think I'm being childish and archaic in what they describe as a very modern world. They say men no longer cherish the big V (virgin) that they want experienced girls by their side.
I really want to belong; but I don't want anything to interfere with my education in line with my mother's warnings.
What do I do to ensure I don't get pregnant?
Bola
© 2014 Nollywoodgists.com
Click the link below to go to...
Ese Walter Who Exposed Pastor Biodun of COZA Weds Benny Ark [Pictures]
Emeka Enyiocha Shares Picture Of His Family [Pictures]
2face, others panic on aborted Aero flight
Muma Gee Admits Being pregnant
Foluke Daramola-I Can Only Leave Marriage Because Of Physical Abuse
Pete Edochie- I don't bother very much about what people say about me