Don't Trust Okorocha, Ex -Commissioner Tells Imo Youths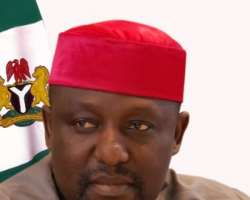 A former Commissioner for Information and Strategy in Imo state, Dr.
Kelechukwu Okpalaeke has called on the youths of the state to beware
of Gov. Rochas Okorocha's many promises intended to deceive the
people.
In an interview with newsmen in Owerri, Okpalaeke insisted that
Okorocha's rescue mission is highly deceitful awash with many promises
he cannot fulfill and added that there is a vacuum in governance of
the state as the governor does not understand the needs of the Imo
people.
The former commissioner called for the youths to be given a chance in
governance stressing that he has concluded plans to organize a youth
summit with the theme, 'Reclaiming our Destiny'.
He also appealed to political leaders to create employment
opportunities for youths to reduce the increasing crime rate in the
society.
Okpalaeke urged the people of the state to consider the background of
political office seekers before voting them into power, lamenting that
the people would not have voted for Okorocha if they truly checked his
background.