Gov. Peter Obi Living Up To His Promise Of Finishing Strong.....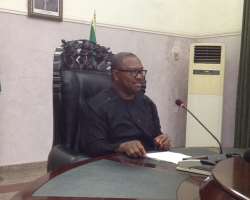 Gov. Peter Obi had always indicated that he would never be a lame duck governor in his final days in office. He has continuously underlined the need to finish his tenure on a proactive, energetic and robust way; hence his mantra of 'finishing strong'. So far, he has lived up to his promise to work assiduously to the very end.
With just some five days to go, Obi's work schedule has been as frenetic as ever; starting just before dawn with a power walk at 530am with some aides and continuing sometimes till 3am the next morning. His staff, most much younger than him, are left no choice but to play catch up.
During his "End of Tenure Event", his immediate staff presented a video skit, in which they facetiously lampooned the seemingly never tiring governor. It was a surprise package that elicited a chuckle from Gov. Obi. Jokingly, they suggest beyond his earshot that were it possible, the governor would have created the 25th hour of the day under his ANIDS programme.
On Thursday 13 March 2014, Gov. Obi has a full plate of schedule that includes 1) Pre-inauguration church service; 2) handover of vehicles to secondary schools in Anambra State; 3) presentation of cheques to 400 youths in Anambra State; 4) presentation of cheques to a batch of university graduates from Anambra state with first class degrees; 5) flag off of second batch of transformers and fire trucks; and 6) ground breaking of Neimeth International Pharmaceuticals PLC Plant at New Town Amawbia.
Amidst this energy-sapping schedule, Gov. Obi is still expected to attend to his office duties and receive a hosts of guests and well wishers, while winding down his official duties.
Last Monday, he could only receive the UNICEF Country Representative Ms. Jean Gough and her team from Abuja after 7pm, but had to skip dinner with them in order to attend to other appointments that spilled over into the late evening. As his tenure draws to a close, Gov. Obi has found time within this month to hold Executive Council meetings almost every other day, sometimes from 8:30 pm onwards.
In the coming days, he is expected amongst other things, to receive 78-page the report of Handover Committee, which the Chairman, Mr. Oseloka Obaze confirmed is ready. There are also speculations that Gov. Obi might undertake a tour of the three senatorial zones and visit some schools in Anambra before he leaves office next Monday.Meanwhile, numerous inaugural events are planned from 13th March and he is billed to attend most of them.
Among the invitation cards being sent out for events in the days ahead, is one for a cultural event on Sat. 15 March 2014, during which, Gov. Obi would be conferred with a Chieftaincy title by Anambra Traditional Rulers "in honour of his tremendous achievements in developing Anambra State." It is gathered that Traditional Rulers from all over the Federation will be in Awka for that singular event.
2014-03-13 121820