Absence Of Prosecution Witness Stalls Trial of Suspected Killers of Boko Haram Leader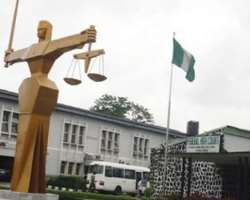 SAN FRANCISCO, March 05, (THEWILL) - The failure of the prosecution to produce its witness at the resumption of trial on Wednesday stalled the trial of some policemen accused of killing the founder of the Boko Haram sect, Mohammed Yusuf and some of his followers.
Presiding judge, Justice Evoh Chukwu, of the Federal High Court, Abuja therefore threatened to discontinue the trial and set the suspects free.
Five policemen - J.
B.
Abang (ACP), A.
Akeera (ACP), Mohammed Ahmadu (CSP), Mada Buba (ASP) and Adamu Gado (Sgt) - are being tried on a two-count charge of conspiracy and murder, in relation to the killing of Yusuf and his followers.
Justice Chukwu was to rule and proceed with trial only for the prosecution lawyer on Wednesday, Austin Atubu to inform the court that his witness, Mohammed Yakubu (an Assistant Commissioner of Police (ACP) attached to the Special Investigation Unit (SIU) at the Force Headquarters, Abuja was ill.
He told the court that Yakubu had taken three days off duty because he suffered from "severe" hypertension.
Atubu consequently sought an adjournment.
But angered by the development, the judge warned that he would only entertain delay in the case for the last time.
"This is the last time this court will entertain any form of delay either from the prosecution or the defence.
Otherwise, I will strike out this matter," he threatened as he adjourned hearing in the matter to March 24.
He was to rule Wednesday on whether or not it could admit in evidence, a Digital Video Disk (DVD), containing the recording of how the killings were carried out and copies of correspondences between the police investigative team and the management of a foreign television channel, Aljazeera.
While testifying on the last date, Yakubu had told the court that a video recording of the incident, aired on a Aljazeera - aided the investigating team, which he was a member.
The prosecution had sought to tender the items through Yakubu when the defence objected, arguing that the exhibits were not admissible.