Rocking A Jumpsuit During Pregnancy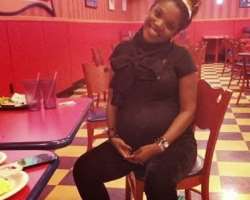 Jumpsuit are so cute when seen on ladies, but at the same time these long and short jumpsuits have made their way off the runway, through the ranks of fashion and right into the maternity clothing department.
The maternity jumpsuit trend has been somewhat controversial. I did see a number of big bellied women walking around Soho in jumpsuits last week and was actually quite surprised at how cute they looked. I attempted to snap some Preg-On-The-Street photos, but my phone failed to cooperate.
In some ways, pregnancy is the perfect time to wear the styles that might otherwise make you feel self conscious about any mid section issues. No one expects your stomach to be flat when there's a baby growing in it!
Then there's the practical factor. On the one hand, a maternity jumpsuit is convenient (no need to choose multiple items of clothing) On the other hand, it's not adequate for frequent urination because it is a one-piece dressing. Many celebrities have been seen rocking this type of jumpsuit during pregnancy, one that thrilled the eyes of many was 2face Idibia's wife, who also rocked an animal skin designed jumpsuit during one of her pregnancy days.