35 Persons Killed In Fresh Borno Attack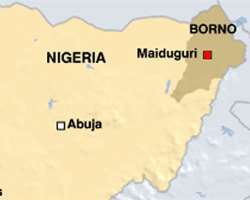 SAN FRANCISCO, March 01, (THEWILL) - A fresh Boko Haram attack Saturday evening  in Maiduguri, the Borno State capital, has claimed not less than 35 lives.
The twin-bomb explosion which rocked the densely populated area of Ajilari- Bintu Sugar at about 6pm with a loud bang shook the entire neighbourhood with many scampering for safety.
A pick-up van loaded with firewoods is said to have suddenly exploded and went into flames thus throwing the area into confusion and panic.
The Borrno State Commissioner of Police,  Alhaji Lawal Tanko, confirmed the explosion, saying that 35 bodies had been evacuated so far.
``We are still counting, so far we have counted 35 bodies.
Our men are still working with rescue workers at the scene'' he said.
Eye witnesses said the vehicle was parked very close to the commercial area where people normally gathered to buy their evening meal.
An eyewitness, one Mrs.
Felicia Odelanu, disclosed that many people, especially those selling fried bean-cake, roasted and fried fish and barbecue, were killed in the explosion.
Fears are now being expressed in the town that the bloody days are now back as many are now fleeing the area for fear of another attack.