London Rally Against Nigeria Anti-Gay Law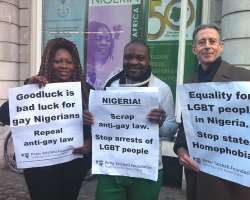 Over sixty people, mainly of African origin, protested against Nigeria's newly signed anti-gay law outside the Nigerian High Commission in London on Thursday, February 20.
In a petition handed in to the London-based Nigerian High Commissioner, Dr. Dalhatu Sarki Tafida, the petitioners demand that a recently signed Anti-Gayslegislation criminalizing same sex marriage be repealed.
President Jonathan Goodluck signed the same Sex Marriage Prohibition Act into law on January 13, 2014, although it had been passed on November 29, 2011. It is much more sweeping than merely banning same-sex marriage. The Nigerian legislation read in part, that: "Persons who enter into a same-sex marriage contract or civil union commit an offence and are each liable on conviction to a term of 14 years in prison." Literarily, the protesters' message to the Nigerian leader, Mr. Goodluck that his action is bad luck for Nigerian LGBT is Homophobic law and mob violence condemned.
Whilst the law says that: "Any person who registers, operates or participates in gay clubs, societies and organisations or directly or indirectly makes public show of same-sex amorous relationship in Nigeria commits an offence and shall each be liable on conviction to a term of 10 years in prison." Here in London the protesters chanted: "Goodluck is bad luck" and "Some people are gay, get over it." In personal defiance of the homophobic law, Nigerian lesbian, gay, bisexual, transgender and inter-sex (LGBTI) people in the crowd kissed and held hands.
The participants held placards with a variety of messages to the Nigerian leader in absence. Some of the placards, reads: "Goodluck is bad luck for for gay Nigerians, Repeal anti-gay law; Equality for LGBT people in Nigeria, stop State Homophobia; Kiss Homophobia, Trans phobia, Bishophobia and Transphobia, Goodbye; Nigeria Scrap anti-gay law, stop arrests of LGBT people; Stop turning us into Refugees! Repeal Anti-Gay Law Now!; LGBT Rights are human rights; and Equality for LGBT people in Nigeria. Stop State Homophobia.
"This new law bans LGBTI advocacy and events, with a 10 year jail term for violators. A public representation of same-sex relationships in leaflets, books, plays or films carry the same penalty, as does witnessing or assisting a same-sex marriage or civil union. Kissing or holding hands in a public place, and even the mere fact of being openly gay, is now a potentially serious crime for LGBTI people in Nigeria," said Peter Tatchell, Director of the human rights organisation, the Peter Tatchell Foundation.
"The new law violates the equality and non-discrimination guarantees of Article 42 of the Nigerian Constitution and Articles 2 and 3 of the African Charter on Human and People's Rights, which Nigeria has signed and pledged to uphold," said Mr Tatchell.
"We came together to say 'No' to this atrocious law and its blatant violation of our human rights," said rally co-organiser Yemisi Ilesanmi.
"This legislation is a clear attempt to crush the LGBTI community in Nigeria. It will jail Nigerians who participate in LGBTI organisations and will make human rights advocacy by LGBTI groups impossible.
"Nigeria is sliding fast into a despotic state. The law further criminalises same-sex relationships. Already, consensual same-sex conduct between adults is a criminal offence carrying up to 14 years imprisonment. In some parts of the country there is the death penalty under Sharia law," said Ms Ilesanmi.
"Valentine's Day is in February. In the spirit of love that February is famous for, we held a kissing spree outside the High Commission. Our message was: Yes to Love and No to Hate," added rally co-organiser Davis Mac-Iyalla.
"We kissed goodbye to sodomy laws and other anti-same-sex laws. International LGBTI solidarity knows no borders.
"The Nigerian government has demonstrated discrimination and oppression towards vulnerable LGBTI Nigerians. It is ignorant of human sexuality. The legislators are enforcing their religious beliefs in a secular country. Equality and human rights are for all, including Nigerian LGBTIs," said Mr Mac-Iyalla
Edwin Sesange of the African LGBTI Out and Proud Diamond Group added: "We are protesting to show our solidarity and to give hope to our LGBTI brothers and sisters in Nigeria. President Goodluck Jonathan should criminalise hate not love. It is very unfortunate that he has ignored pleas for him to scrap the colonial-era anti-gay law and introduce this additional criminalisation of LGBTI people.
"It is important for us Africans to stand together during these times of oppression by our own leaders. We call on everyone to join us in the struggle for LGBTI equality in Nigeria and Africa," said Mr Sesange.
The rally was organised by Nigerian LGBTIs in Diaspora Against Anti Same Sex Laws (NLDAASSL), with the support of the Peter Tatchell Foundation and the African LGBTI Out and Proud Diamond Group.
Gays' issue, which has been in existence since time memorial, in recent years, turned into political, social, economic and cultural debate. At the expense of Universal human rights; anti-gay campaigners particularly in Africa, their claim placed on preserving African culture. Whilst in the western countries; they moved to offer same-sex couples the same legal rights enjoyed by heterosexuals, in Africa politicians are pursuing to toughen the laws against homosexuality. It has also threatened to tear the church into pieces.
Last month the Archbishops of Canterbury and York jointly wrote to all Prelates of the Anglican Communion and to the two Presidents of Nigeria and Uganda. In a January 29, 2014, joint letter, the Canterburyand YorkArchbishops; reminded the commitment made by the Primates of the Anglican Communion to the pastoral support and care of everyone worldwide, regardless of sexual orientation.
The January 2014, urgent call; followed the recent expression by the Anglican leaders in Africawho expressed disapproval of the Church of England's choice to accept gay bishops in its order, saying that the decision could put an end to hopes of healing broken relationships in the Communion. Church of England is the historical mother of the Anglican Communion with over 80 million followers.
African clergies threaten the church's highly-flavoured followers of Anglican Communion worldwide; lastyear the trio of Nigeria's Archbishop Nicholas Okoh, one of the world's largest provinces of the Anglican Communion with 17 million members; Kenya's Archbishop Eliud Wabukala and Uganda's Rev. Stanley Ntagali, the Archbishop of the Church of Uganda, with about 8 million Anglicans followers publically condemned the Church Of England for "compromising with the secular preoccupations of the West" on gay bishops.
The January communiqué from the highest office of the Anglican Church appeared to be referring to some parts in the two legislations for Nigeria and Uganda. Apart from the death penalty, which was dropped; in a Ugandan version, it calls for anyone who aids, abets, counsels or procures another to engage of acts of homosexuality faces seven years in prison if convicted. Yet the landlords housing the homosexuals also could get seven years and anyone with religious, political, economic or social authority that fails to report anyone violating the act faces three years.
The Communiqué said; "We wish to make it quite clear that in our discussion and assessment of moral appropriateness of specific human behaviours, we continue unreservedly to be committed to the pastoral support and care of homosexual people."
The Communiqué added: "The victimisation or diminishment of human beings whose affections happen to be ordered towards people of the same sex is anathema to us."
"We assure homosexual people that they are children of God, loved and valued by Him and deserving the best we can give - pastoral care and friendship,' it added.
The joint communiqué signed by Archbishop of Canterbury Justin Welby and Archbishop of York John Sentamu Eboracensis further reads: "We hope that the pastoral care and friendship that the Communiqué described is accepted and acted upon in the name of the Lord Jesus."
We call upon the leaders of churches in such places to demonstrate the love of Christ and the affirmation of which the Dromantine communiqué speaks."
2014-02-22 150438
2014-02-22 150500
2014-02-22 150519
2014-02-22 150539
2014-02-22 150557