Arogbofa's appointment as chief of staff has douse marginalisation of South West ‎- Mimiko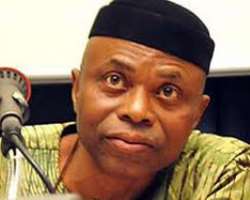 The Ondo State Governor, Olusegun Mimiko has commended President Goodluck Jonathan for the appointment of Brig.-Gen Jones Arogbofa (rtd), an indigene of the state, as Chief of Staff to the President, adding that the appointment has doused the tension of perceived marginalisation from the South West geo-political zone.

Mimiko who was in the State House Friday to consult with President Goodluck Jonathan, told State House correspondents that he was in the Villa to deliver a letter of appreciation to the President for the appointment on behalf of the good people of Ondo State and the state government. "For us, it is a very welcome development not only for Ondo State but for the South West.
"For so long, people have complained that at the highest level of government you cannot really say this is the face of the South West.
"For Mr. President to have picked an Ondo State son, somebody from the South West to the exalted position of Chief of Staff we appreciate it.
"I can tell you that the appreciation goes beyond Ondo State. The whole of the South West is appreciative.
"I have come today on behalf of Ondo State to thank Mr. President but I can assure you that there will be other visit beyond Ondo state to appreciate Mr. President for this gesture.
"Since the South West lost the Speakership position there had been this perception of marginalisation.
"With this and many others to come I think that the perception either real or imagined will recede to the back burner.
"The South West people have always loved Mr president and this will only rekindled the love," he said. Arogbofa who hails from Akoko South West Local Government Area of Ondo State, was appointed Chief of Staff on January 19, 2014.
Arogbofa, a retired Officer of the Signals Corps of the Nigerian Army, took over from Chief Mike Oghiadomhe who had earlier resigned.