Jonathan appoints Godwin Emefiele new CBN Gov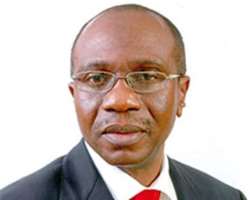 President Goodluck Jonathan has appointed managing director of Zenith Bank,Mr Godwin Emefiele as the new governor of Central Bank.
President Jonathan has forwarded Mr Emefiele's name to the Senate for approval. He has also nominated Mr Adelabu Adebayo, an Executive Director at First Bank as Deputy Governor of the Apex Bank.
Until his normination, Emefiele is the Group Managing Director/CEO of Zenith Bank,  a position he assumed on August 1, 2010.
The new CBN Governor designate is a pioneer staff of Zenith Bank and has been instrumental in developing Zenith Bank into a world-class institution. He holds a BSc and an MBA in Finance from the University of Nigeria, Nsukka and is an alumnus of Stanford University, Harvard and Wharton Graduate Schools of Business. Before commencing his banking career over 23 years ago, he lectured Finance, Bank Management, and Insurance at the University of Nigeria and University of Port Harcourt respectively.  Emefiele joined the bank over 23 years ago and was appointed Deputy Managing Director in 2001. Given his pivotal role, the bank has benefited from his in-depth knowledge of finance and banking.
Emefiele's strong leadership skills will no doubt be a significant advantage as he sets in motion the combined vision for the apex bank.

Financial analysts who spoke to The Citizen applauded his nomination due to his pedigree.

Earlier in the day,  Nigerian President Goodluck Jonathan had suspended Central Bank Governor Lamido Sanusi.
Several dealers told Reuters that Nigeria's foreign exchange, bond and money markets had all stopped trading because of the uncertainty and volatility created by the suspension.
Sanusi, who was due to end his term in June, had been presenting evidence to parliament which he said showed the state oil company Nigeria National Petroleum Corporation (NNPC) had failed to remit around $20 billion that it owed to federal government coffers.
NNPC has repeatedly denied Sanusi's allegations.
Deputy Governor Sarah Alade was appointed acting governor, the presidential spokesman Reuben Abati said on Thursday.
"Lamido Sanusi's tenure has been characterised by various acts of financial recklessness … inconsistent with the administration's vision of a Central Bank propelled by the core values of focused economic management," Abati said, without providing details of the acts.
Sanusi told CNBCA that he was proud of what he had done, and he hoped the economy would not be hurt by his suspension.
Asked by CNBCA whether his suspension was politically motivated, he said: "It's not for me to comment. I think the answer to that is obvious."
Analysts predicted that foreign investors would be active sellers of assets in Africa's second biggest economy, just when it is attracting more interest than ever for the huge potential of its 170 million population and a backlog of work needed to update its inadequate infrastructure.
"The nature of the suspension will come as a significant shock to foreign portfolio investors, whose willingness to invest in Nigeria was very much influenced by the transparency and anti-inflation credibility associated with Sanusi's policies," said Razia Khan, head of Africa research at Standard Chartered.
If Jonathan wants to remove Sanusi entirely, he needs the consent of a simple majority of the Senate.
The Senate could also vote to reverse the suspension if they aren't satisfied with the reasons, though that looks unlikely, since the ruling party has a comfortable majority in the Senate, and Sanusi was also a vocal critic of wasteful spending in the national assembly.
Before trade ceased, the naira had fallen 1.4 percent to 166.50 to the dollar on the news. Sanusi, a career banker, earned a reputation as monetary policy hawk while governor from June 2009 – raising interest rates, tightening liquidity and aggressively defending the naira with frequent foreign exchange auctions.
"Sanusi has been the face of naira stability," Nwabueze Okonne, a Nigerian currency trader, told Reuters.
The stock market was down 1.7 percent in today trading.
Additional report culled from Reuters.