Senator Professor Ben AYADE: A Senator with a difference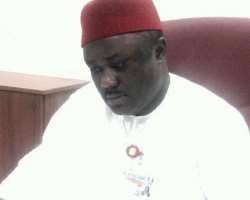 Senator Professor Ben Ayade
The name of Senator Professor Ben AYADE, a senator representing the Northern senatorial district of the great state of Cross River is widely known in Nigeria for the significant contributions he has made to make life better for his people and the Nigerian populace.
Recently he approved the payment of West African Examination Council WAEC fees for 300 students at the public and private school level within his senatorial district, a pattern that has become his life style. Senator Professor Ben AYADE's scholarship scheme currently have students studying in Malaysia, Philippines, Indonesia and Cameroun outside of those studying in Nigeria itself.
The concern of Senator Professor Ben AYADE has for education remains part of the people interest and love for him.
The political Editor of the Voice magazine based in the Netherlands wrote a small piece on him and it has attracted comments from members of the public particularly from the state, some of course negative but majority were positive of Senator Professor Ben AYADE after reading the piece on him. For people of his kinds, the Editor says he would continue to write about them as Nigeria needs quality leaders in the coming dispensation. Senator Professor Ben AYADE has pulled another crowd to his side and definitely a man to watch for the future.
As a disciple of the academic progress of our youths in Cross River state, Senator Professor Ben AYADE on this particular subject is top on the agenda of persons to be promoted in his quest to advance the course of youths forward in Nigeria.
It is in view of this that we appeal to other representatives of Cross River state to see it as a responsibility to help their people in any way they can to improve the quality of life of the citizenry.
Thank You Senator Professor Ben AYADE. You have brought joy and happiness to some families this period of the year. Remain focused and be committed we wish you a wonderful success ahead
By Dr. Matthew Okeyim
The Netherlands.