E.X.P.O.S.ED! 2015 Election: Udom Takes Fetish Oath (Mbiam) To Protect Akpabio After Exit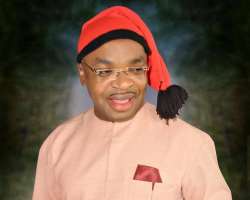 Udom Emmanuel in a cult regalia ready to take fetish oath
Report has emerged that the Secretary to the Akwa Ibom State Government, Mr Udom Emmanuel was last week forced to take a local fetish oath known as mbiam to protect the Akwa Ibom State governor Chief Godswill Akpabio from prosecution, ranging from money laundry, political murders and abduction after his exit in May 29, 2015. The oath which was allegedly administered in Akpabio's country home, Ukana in Essien Udom Local Government Area.
One of the witnesses who preferred anonymity said the ritual which took place in night inside Akpabio's compound was witnessed by few members of the governor's loyalist. "Of course, you know that the governor is hell-bent on installing someone whom he can trust and such trust must come from oath-taking. It is not a new issue. It is common with politicians not only in this state; such should not surprise you." The witness said.
He revealed that the chief priest who administered the oath was brought from another state and his face was painted with charcoal and wore red garment may be to conceal his identity to avoid anyone to contact him thereafter. He added that not only the SSG alone was given the oath; other five cabinet members equally took the oath with pledge of allegiance to support the SSG for gubernatorial seat. And that there was a concoction which went round for all who pledged the loyalty of working to ensure that the SSG becomes the governor. The concoction was a mixture of human blood, olive oil, raw animal parts and other things that do not worth for print.
The source maintained the main reason for administering the oath was based on the premise that Akpabio is scared of any judicial commission which might be set up to investigate the high scale of fraud, political assassination and kidnapping which Akpabio's government has gained notoriety for. He expressed fear that the political killings and kidnapping which preceded the Akwa Ibom State general election in 2011 might be re-enacted to scare any opposing force against Akpabio wish.
"You see, the governor is concerned that after his departure, some of his for aids may turn to work against his interest. He therefore, wants to ensure that, he keeps someone whom he can trust, control and possibly gives the hands to govern the state by proxy for at least three to four years after his exit. Of course, you know he is desperate about that. That's why he kicks out any body that he suspects might work strongly against his wish or interest. And don't be surprised to see the resurgence of political kidnapping and killing taking place in the state again…" The informant ventured.