INEC acquires CVR machines for 2015 elections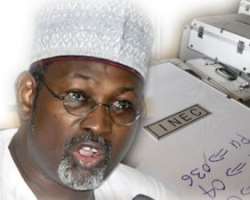 The Independent National Electoral Commission (INEC), on Thursday, said it had acquired machines that would be used for the Continuous Voter Registration (CVR) for the 2015 general elections.
The commission also said it would conduct the CVR for the governorship elections for Ekiti and Osun states between March 12 and 19, this year.
The Director of Voters Registry in INEC, Mr. Emmanuel Akem, said this during a one-day national conference with the theme, 'Stakeholders engagement of INEC on the status of continuous voter registration ahead of the 2015 elections.' The event was organised by the Transition Monitoring Group, with support from the United Nations Development Programme/Democratic Governance for Development.
He said, 'Since the machines are in place, it is 100 per cent a possibility to register in any INEC office nearest to you. If you go to the states, there are machines that carry out the transfers. There are also re-enrollment machines.
'Already, a sizeable number of the CVR machines have arrived the country. It makes it possible for us to carry out the continuous registration. The nationwide CVR has no date yet because we want to have the full complement of those back-up machines. But for the ones for Osun and Ekiti states, there is a date for the commencement of the CVR, and it will run between March 12 and 19, this year.'
According to him, the  CVR is being done in stages with regard to the governorship elections.
He said, 'We intend to do the national CVR and we will cover the entire country.'
Akem assured that the methodology had been taken care of because INEC was committed to carrying out the mandate.
He said that the CVR was aimed at 'capturing the data of people, who have turned 18 years; people who do not have the opportunity to be registered previously; and then we also intend to use that opportunity of this registration to correct some of the mistakes in terms of the biometrics in the previous registration.
'So, it is a twin aim that captures data fresh and then correct some mistakes about some categories of people that we need to capture so as to have clean voter card for them.' - Punch.