Mafoluku residents demand better services from Ikeja Distribution Center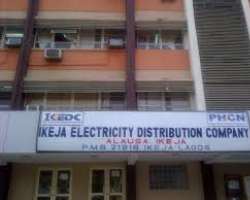 By Simon Ugwu
The aggrieved members of Mafoluku Community Residents Association, a sub-urban area of Oshodi in Oshodi Local Government Area recently stormed the office of the Ikeja Electricity Distribution Company, IKEDC to protest incessant power outage in the area.
They wondered why Oshodi and Ajao Estate should enjoy constant power supply while Mafoluku, a sub-urban of Oshodi should be in darkness. Following this development, the association listed its demands to include 'urgent installation of prepaid meters to replace the obsolete ones for which they are issuing arbitrary estimated bills.
They are also insisting that if there is no electricity supply, there should be no bills. And when there is bill and there is no supply of power, consumers Should not be compelled to pay the bills.
Their other demands include: that IKEDC should henceforth take full responsibility for its installations; that it should be the responsibility of IKEDC to protect and maintain its installations.
The residents also demanded that they should no longer be made to pay for services not rendered'.
The MCRA said , "We reject flashing of light in our area only in a bid to make us pay heavy bills at the end of the month. No more estimated billing.
This press conference is a call on the appropriate quarters to look into the activities of Mafoluku Services Centre as enumerated here, determine in particular the legality, honesty and fairness of our consumer rights'.
The association further pasted posters in almost all the streets in the community which reads, "Enough is Enough —Note-Ikeja Electricity Distribution Company. No more estimated or coded bills, we need prepaid meters urgently.
No adequate power supply, no payment of bills. "No IKEDC staff should be allowed to disconnect power supply in our community till further notice.
Stop diverting power to industrial estates, we are entitled to power supply for domestic and commercial purposes, "we are no longer responsible for repairs of IKEDC Installations or properties. This message is from Mafoluku Community Residents Association."
In its proactive move to address the looming crisis, IKEDC recently held a meeting with Mafoluku Residents which lasted several hours.
There they resolved most of the issues, the CEO of IKEDC Mr. Abiodun Ajifowobaje , who was represented by Olusola Ayeni, Principal Manager, Public Affairs, promised that the area would be provided with prepaid meters very soon. He also promised to fast track the installation of the Power Station at Oga Oke, which is expected to be completed within two weeks.
The power station is expected to serve as step down for the area. 'There will be improvement of power supply as soon as the station is commissioned.
Those who have issues of crasy bills should bring their bills to the business manager for adjustment'. Responding to this allegation, Olusola Ayeni, the Principal Manager, Public Affairs, said that IKEDC has not suspended the distribution of meters in the area.
'We haven't suspended the distribution of meters. We want to ensure that there are no flaws in the issuance of prepaid meter. We have a robust agenda for residents of Lagos. A new Korea company has been commissioned to access the level of meters in the state. At the end of the exercise, residents of Lagos will smile.
I can assure you that everyone will get a meter,'he said. On money paid to repair installed IKEDC equipments, Ayeni said, 'We have been sensitising residents not to give their money to any IKEDC official to repair any damaged installation. Rather, they should report to the necessary office.'
On crazy bills, the Information Officer said, 'When any customer feels that he or she is billed outrageously, he should see the business manager anytime and complain to him. We are operating an open door policy.