2015: 'Allow court to decide Jonathan's fate'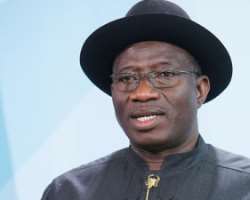 A northern group, Arewa Peoples Patriotic Front, in Kaduna on Sunday asked critics of President Goodluck Jonathan in the region to stop overheating the polity and allow the court to decide whether the President is eligible to contest the 2015 election or not.
The group, while reacting to a statement credited to Kano State Governor Rabiu Kwankwaso on the eligibility of the President to contest the 2015 election, said the governor was not competent to determine the eligibility of Jonathan.
The group however noted that the President was qualified to contest in the 2015 presidential election
In a statement by its Chairman and Secretary,  Mordecai  Ibrahim and Sam Otitolaye respectively,  the APPF asked  Kwankwaso and other critics of Jonathan in the north not to distract the President from carrying out his official duties.
The statement read, 'On whether President Goodluck Jonathan is eligible to contest the 2015 election, since Kwankwaso is not a lawyer and is also not ready to go to court for the interpretation of the constitution on the matter, he should better shut up.
'We have a constitution and the courts are there to perform their constitutional functions of interpretation and adjudication. Nigerians should therefore be spared these ''mango tree' discussions.'