Minister orders resumption of flight operations at Yola airport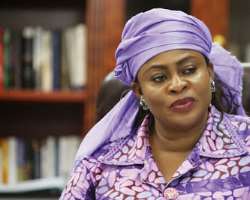 The Minister of Aviation, Stella Oduah, on Friday directed the Yola International Airport authorities to commence full flight operations at the facility with the use of the newly-built terminal.

The minister gave the directive in Yola while inspecting the facilities upgraded at the airport, whose rehabilitation began in 2013.

The News Agency of Nigeria reports that the airport had been under rehabilitation since 2013 and is expected to be inaugurated soon.

Oduah expressed satisfaction with the quality of work at the airport, saying 'the quality of the work is according to international standards''.

She said all major expansion and upgrading works at the airport had been completed, and the official inauguration of the facility 'is only a matter of time''.

Earlier, the Managing Director of Federal Airports Authority of Nigeria, Mr George Orise, had said the management was waiting for the airport to be inaugurated before commencing full operations.

Orise, while conducting the minister round the airport, said the airport's new terminal was efficiently designed and has state-of-the-art facilities, including laundries, shopping malls and accommodation for passengers.

He disclosed that the cargo terminal construction and lighting projects had begun and would be completed before the end of 2014. NAN