God says I should contest again in 2015 – Okotie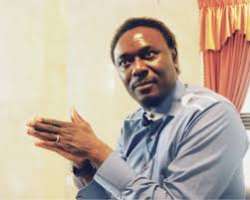 Senior Pastor of the Household of God Church, Ikeja, Lagos, Rev. Chris Okotie, has declared his intention to contest the 2015 presidential election, and again he hinges his ambition a divine call.
'I will run in 2015, God willing. God spoke to me about my participation in the political process, which was why I took the step in the first place. He has not said anything contrary,' the former poster turned preach told PUNCH.
'I don't want to talk about our strategy for now, we have learnt from our past experience, we don't want to talk about it for now,' the man of God had replied when asked of his strategy for the election.
Okotie disclosed that he would contest for Presidency under the Fresh Democratic Party, a platform he founded but was de-registered by the Independent National Electoral Commission, INEC, last year.
However, a court verdict in June, 2013 invalidated the action, ordering the electoral umpire to maintain status quo.
Okotie had previously contested for the top Nigerian job.
He  first contested for President in 2003 under the Justice Party. He lost to former President, Olusegun Obasanjo, candidate of the Peoples Democratic Party, PDP.
Again in 2007, he threw his hat in the ring, after emerging flagbearer of the Fresh Democratic Party. He was defeated by the late President, Umaru Yar'Adua, also of the PDP