Jonathan urges Northwest PDP not to be intimidated by opposition tirades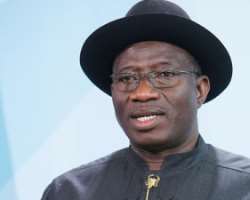 President Goodluck Jonathan has urged the North West caucus of the ruling Peoples Democratic Party (PDP) not to be intimidated by the constant tirades of the opposition parties who see nothing good in his administration, adding that his critics should compare his achievements to past administrations.
Jonathan who stated this while having audience with the North West PDP caucus led by its former Chairman, Dr. Bello Haliru Muhammed, at the presidential villa, Abuja on Thursday, also said that the only thing that makes the opposition progressives is by abusing him and the federal government. 'I commend the North West PDP your unity. You should not intimidated by the defections because as long as the PDP in the zone continue to discuss on how to stay together and work together to protect the interest of the party, there is no way any other party can come and over take us.
"There is so much noise in the media whether is electronic or newspapers or even social media, sometimes it seems as if the world is coming to an end.  Atimes when they come to me with some of these things I smile and say from 1959 down the story has not changed. Some people call themselves progressives they have done that before, did they change the system? Today if you can abuse Jonathan you are a progressive, if you can attack the federal government you are progressive, even if nothing is happening in your state you are progressive. We have seen the progressives.
"But just like the Vice President said, PDP is still the number one party and it will continue to be the number one party. Yes people may have access to the media and use it robustly to their own advantage or disadvantage. But as long as we are united which we will do everything possible to keep the party together, PDP will continue to dey dam dam. No shaking! Nobody should come and deceive you to cross over to the other side that you don't know what is there. Some people are crossing to where they don't know, well we will know as we progress but collectively all of us working together with other members across the country, we will still be the leading party.
"There is no ward, no voting unit that you don't have PDP members, in fact if you go to some areas they don't even know this new name yet, even where to thumb print on the ballot paper they don't even know. So be rest assured our party will continue to work together to strengthen the party and it will continue to be the number one party in this country.
"From the side of government let me sincerely thank Dr. Bello who led the team, he did not just lead the team down for this courtesy call on us, but he was the one who took us around this country for our campaigns in 2011, and made us to win the election. He is still robustly with us and we will win again as a party".
President Jonathan stated that his government has in its two years eight months in power despite the security challenges, recorded remarkable achievements that cannot be faulted no matter how much his critics try.
"The Vice President has said it all and Dr. Bello also mentioned, our transformational agenda is on course. Sometimes when you hear people talk about this government on the television or in the newspaper you will think this government is 10 years old, but we are only two years eight months old. By May this year we will be three years old and by May 2015 we will be four years old. And I challenged some of those who criticise without thinking, to compare what we have done in the two years eight months with that of any other administrations in this country and outside.
"That is why when we presented our mid-term report for two years, I asked people to develop their marking scheme. It is not just to criticise but you have to compare and especially a government that is facing too much challenges. If you look at the excesses of Boko Haram of which even the Police Headquarters was bombed here in Abuja, UN building bombed. The bombing started from Abuja, thank God we have generals amongst us here, they can tell you the cost of fighting this kind of situation. Even under this situation we have progressed significantly and sometimes people don't even appreciate but time will come that people will know.
"The ministers have told you about our commitment to education. And sometimes people say Jonathan is anti-north, he does not want to develop the north and sometimes they sell these ideas to people from outside especially those from the United States of America, we Nigerians believe the West must say something for us to listen. And I have spoken to one or two envoys and I said look if I am anti-north, agreed I am from south south minority, if I had established three universities in the north and three in the south because there is no money nobody will castigate me. In the south there were only two universities before we established the new universities, there were only three states without university Ekiti, Ebonyi and Bayelsa, all the others have federal university. As at that time nine states in the north did not have university. And I believe that the very first thing you use to emancipate people is education.
"I often use myself as a good example, I grew up in a peasant home, if I did not go to school there is no way I would have been here today. What has made me to be here today is education. They said I am lucky if I didn't go to school will luck bring me to be President of Nigeria? And that was why I said is not fair, no matter what let's start small universities that will not admit more than 400 students that we can provide decent environment, more facilities but all the states in the north but have federal universities.
"So if I am against them would I have done that? The issue of Almajiri education if I am against the north would I have encouraged that we work with the governors to provide for quite a number of children who are out of school? We can go on and on but this is not the time for that. Because all these are political blackmail".
On the importance of having a functional railway system in the country, the President said a good rail system was the only way the roads will last longer.
"As a nation, without fixing the rail system you cannot talk about mass transit. And that is why we are committed, it is expensive and that is why we are talking about different ways of funding and so on to make sure the rail move across the whole country because that will even make our roads last longer. Because most of the heavy items like rods, cements will be moved by rail, we promise Nigerians and  we will continue to do that.
"They are few sincere Nigerians, only two days ago on one of the TV stations, one commentator said the roads are better than before. Many have agreed that our infrastructure have improved and we will continue to do more. We believe all our roads will be made motorable.
"We have also agreed to tackle the issue of desert encroachment robustly. I'm yet to get the lastest briefing I believe is because there is no substantive minister yet, but immediately the National Assembly resumes, they will get the list of ministers. So that we will get a law that will establish a body. We are no longer going to play with this. We have assign N10 billion as a take off fund, this is from ecological fund not from line budgeting. And make sure that we are not just planting trees but planting trees and grasses that would create income for the people. We will create an area where it will generate a lot of activities, stimulate the local economy so that people can convert their product to money and we will surely do that.
"On agriculture, I read an article in the paper where somebody said government has budgeted N2 billion for the north, how can a government budget N2 billion for the north? That was seed money. In some northern states alone we are intervening with N14 billion which I have approved and that is outside line budgeting. I don't know whether the ministry has received. Some northern states not the whole country are going to intervene in agriculture.
"I believe that by the time we get the security challenges to a reasonable level, the northern part of this country has more resources. What is in the Niger Delta is oil, the land there is not good for farming, we have the best savannah area from the green savannah to the Sudan Savannah to the Sahel savannah to the mambila plateau area, we have the best ecological zone in the north and this is where the resources are. The solid mineral is there. Let's just work together and you will see how much we can transform the economy of this country that will benefit all of us".
President Jonathan commended the governors of Katsina, Kebbi, Kaduna, and deputy governor of Sokoto for maintaining PDP's unity.
"Let me thank the governors for appreciating the need for us to maintain the unity of this country. The indivisibility of Nigeria is guaranteed, there is no one person or group of persons that can divide us. Lord Lugard brought the north and the south together, there is a reason why that was done, it was not by chance. Or else they would have brought Chad and Nigeria, but there is a reason because there is affinity, we have a lot in common.
"So collectively we should exploit this areas, these diverse areas that will enable us to develop economically and socially. Not to over exploit as politicians, look for weak areas and continue to hit them for political reasons.
"Our strength is in our diversity not in the oil, there are small countries that produce more oil but nobody hears about them. The oil we have in Nigeria is very small, if you divide the oil you have by your population you will know you have nothing. If anything happens in this country the whole world is shaking why? Because of our diversity. And these are areas we must exploit to our maximum advantage. What we should be talking about is the next 100 years and I believe then we will not be talking about north and south. We will be talking about who is going to the moon, who is manufacturing what.
"I also appreciate your support for the national dialogue. In fact today we have a meeting with the committee. Sometimes people for selfish or political reason say all kinds of things in the media, but we believe people cannot just continue to talk in a way that instead of bringing unity are separating us. Some of the people that are much more older than me, they are suppose to blame themselves that they have not been able to bring this country together. We should come together and encourage the younger ones to think about how to go to the moon, not to be fighting themselves. So that is the need for the dialogue.
"I promised we are not going to interfere with the process only to make sure we set the process properly so that it can continue to run. We are to make sure the national conference will not create more problems for the country but rather to solve what the people think are the problems in the country.
"Nobody should intimidate you, we will continue to support you, PDP is still the number one party, and will remain the number one party.
Earlier in his remarks, the leader of the delegation Dr. Muhammed, assured President Jonathan that Sambo has been working very hard to organize and reinvigorate the party and to maintain its vibrancy in zone and the north generally.
"This is evident not only from the various consultative meetings he has been holding across the north and particularly in our zone, but also from the dignities that are here present.
"For him to mobilize all these people at short notice, it is an indication of what he has been doing to galvanize the party in our zone and in the north in general.
"Let me assure you Mr. President that the Vice President is very much on ground and he is holding forth for you in our zone and the north in general and PDP is intact in the North west zone despite all other information you may be getting".
The former Defence Minister commended President Jonathan for his  steadfastness and determination to put in place a solid and well thought out transformation agenda for repositioning the country for a better future of steady and sustainable development, adding that the zone was very appreciative of this just like other Nigerians.
"Your transformation agenda is now embedded into the country's template of economic revitalization and is well on course. The dawn of a new era of progress and the betterment of the fortune and lives of Nigeria and our Nigerian people has brighten the horizon of hope.
"We can only pray that God will bless our collective effort under your dynamic leadership to move Nigeria forward and away from the era of dashed hopes and wastage of our national natural resources.
"Our political party, the PDP on whose platform we still stand daram dam dam as Kaduna state people will say , your Excellency, is not under any threat and we urge you to continue the implementation of the manifesto of our great party.
"We are particularly glad to note the pragmatic and impactful dividends that your administration has provided especially in the north particularly, our zone the North West zone. This is through execution of several meaningful projects in all sectors of the economy. We are also grateful for your giant strides in the social economic sectors".
Some notable persons on the delegation were Governors Shehu Shema (Katsina), Muktar Ramalan Yero (Kaduna), Seidu Dakingari (Kebbi),
Others include Chairman of the People's Democratic Party (PDP), Alhaji Bamanga; Mohammed Abacha, former Speaker of the House of Representatives, Alhaji Ghali Na'Abba and Deputy Governor of Sokoto State, Muktar Shagari and former Kaduna State governor Ahmed Makarfi.