Re:Before it is too late- an invitation to military coup !!!! open letter to former President Olusegun Obasanjo.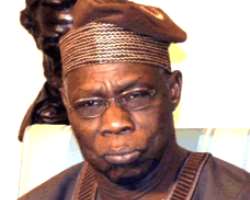 Nigerians United for Transformatiom (N. U. T.), Aiguobasimwin Crescent, G.R.A.
Benin City.
19th December 2013.
Re:Before it is too late- an invitation to military coup !!!! open letter to former
President Olusegun Obasanjo.

We were not surprised like some individuals and groups about the mischievous content and maliciously laced piece by former President Olusegun Obasanjo; we were however soaked in grief and consternation, because of the despicable extent he had gone to package the write-up. Coming at a time where many religious leaders have prayed and fasted for Obasanjo to change his seeming sinful nature by earning statesmanship for himself. Alas, he adventently rejects honor. We are not also surprised as to why Gen. Muhammadu Buhari, Cheif Ernest Shonekon, and Gen. Oladipo Diya were not considered worthy of serving copies, because, it's either he (Obasanjo) is very unforgiving, and or he has a penchant in ridiculing principle minds.
Judging by the seeming tripitite outbursts of supposedly major stakeholders(Lamido Sanusi, Rt.Hon. Tambuwa, and Obasanjo) in the Nigeria project, it is evidently clear that a conspiracy to undermine Nigeria's coporate existence is at work, or how else can one interprete - the sweeping allegation by the Central Bank Governor that the Nigeria National Petroleum Coporation have failed to remit its statutory funds to the Bank of all Banks, when it has not done clinical checks on accounting records; two days before the cautionable public attack by the House of Representatives Speaker, where he justaposed the seeming body language of some aides of President Jonathan in adjudging Mr. President as corrupt; and this was immediately followed by the unpresidential presentation of a supposedly Presidential letter, which is notoriously reffered to as Obasanjo's missive, is to say the least an unprovoked invitation to military coup, God forbid! It is a notorious fact that the underlining object that the Obasanjo's letter seeks to serve is to provoke military elites to consider military option against the democratic administration of President Goodluck Jonathan GCFR for reasIkons best known to the author, but not limited to 1. Obasanjo' s frustration following his inability to deliver Ogun State in the Gubernatorial and Senatorial contests in 2011 general elections; 2. The political cum legal disputes over the substantive Secretaryship of the ruling PDP - where his godson Oyinlola has failed to secure his return to his estwhile post 3. The fear of vindetta or revenge over the feedom granted Major Mustapha by the Court of Appeal; 4. The non empowerment of Obasanjo new-found political pals in the Rivers and Adamawa State Government Houses; 5. The refusal of Mr. President to rig elections at the party and general elections level. (Thank God that in President Jonathan, Nigerians have found credibility in the electoral process after the June 12 elections).
From the first to the last paragraph of the said tissues-of-jaundiced-attack on Mr. President, Chief Olusegun Obasanjo betrayed his hatred for a humble, focused and service-oriented President who calls him father. Having regards to the impunity with which Obasanjo mismanaged the socio-political firmament of Nigeria, it is shocking that he could seek to command moral standing which he lost woefully, to the extent that he quoted Prof. Chinua Achebe - a literary icon who Obasanjo refused to regard when he unleashed political hurricane in the Late Professor's Anambra state, which culminated in the federal-influenced abduction of a serving Governor - Chris Ngige. (the Ngige and Uba debacle). That is pedestrian courage. In Achebe's Things Fall Part, Okonkwo was forewarned of a catastrophic calamity if he involve in sacrificing Ikemefuna. Obasanjo should learn from it, since he has suddenly become a fan of Prof. Achebe.
It is a known fact that Chief Obasanjo has been the brain behind the rebellion that was vigorously waged by some Governors of the People's Democratic Party, until they summoned the courage to migrate into the APC, a strange bed marriage which will surely collapse. In other climes, the Ota Farmer was over due for scrutiny by the party's disciplinary committee, but the humility of the President who is the undoubted leader of the party was the respite for adequate disciplinary actions that ought to have been melted on him by the Umaru Dikko's led Disciplinary ommittee of the PDP.
It is not expedient to list the over one hundred social, political and judicial abuses that were inflicted on Nigerians, across the states of our country during the Obasanjo's eight years misrule, to the extent that Yar Adua admitted that the process that threw him up as President was not credible; or the orchestrated starvation of Lagos State of its statutory funds despite the ruling by the Supreme Court. Obasanjo may recall how he diabolically used EFCC and ICPC to hunt vibrant Nigerians into forced exile; including unscrupulous state of emmergencies in Plateau and Ekiti respectively; or the heinous genocides he ordered against Odi and Zaki-Biam people. Or has he forgotten how he deployed the notorious 'K-leg theory' against Rotimi Amaechi's victory in Rivers Primaries which turned out to become victory without election for Amaechi- his new found friend?. one wonders how Obasanjo suddenly becomes a one-term campaigner when he spent billions of tax payers monies to pursue the failed and unpopular third term agenda for which he has refused to own-up till date. He ought to have apologized for taking Nigerians through unwarranted third term agony. So, in the first place, this ex-President should have sojourn to the Biblical River Jordan for months of spiritual cleansing and make restitution to the federation account, including unreserved apology to Nigerians before attempting to write a letter which could be acceptable for meaningful examination by concerned Nigerians. We seek this medium to appeal to all Nigerians, the Military elites to ignore the machinist ions that the letter intends to evolve, by supporting Mr. President to overcoming the pitfalls that are circumspect with governance.
Collins Osunde - Director of Publicity and Intelligence