Chimamanda's Americanah tops New York Times best book list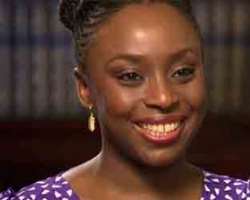 Chimamanda Ngozi Adichie's third novel, Americanah, has just been named one of the Top 10 Best Books of 2013 by the New York Times.
The list of the 10 best books is chosen by a team of editors at the New York Times, a newspaper widely regarded as the most prestigious in the world. The list, selected from thousands of books published each year, is eagerly awaited by the literary world and the wider public.
AMERICANAH, which is published in Nigeria by FARAFINA, is described as a 'tender and trenchant' novel that 'takes on the comedy and tragedy of American race relations.' The New York Times describes Adichie as 'fearless,' noting that Americanah proves that 'there's nothing too humble or daunting for this fearless writer, who is so attuned to the various worlds and shifting selves we inhabit - in life and online, in love, as agents and victims of history and the heroes of our own stories.'
Americanah is also number one on the BBC's list of the top 10 books of 2013. The BBC writes, 'Chimamanda Adichie is supremely smart. With Americanah …she proves she is also supremely funny.'
Americanah has also featured in other 'best of 2013′ lists including the Seattle Times and The Guardian (UK). It was also chosen as the 'best book of the year' by Apple's electronic publishing outlet iBooks.
Since she emerged on the global literary scene with her riveting debut, Purple Hibiscus, Adichie has consistently garnered the respect and attention of both the literary world and the wider global public. Her second novel, Half of a Yellow Sun, also earned prestigious prizes around the world and has been made into a motion picture, which has been premiering globally. With Americanah, Adichie has continued to break new ground as a writer and build upon her already stellar literary reputation. • Culled from BBC