Lagos issues vacation order to tanker drivers to ease Oshodi-Apapa traffic jam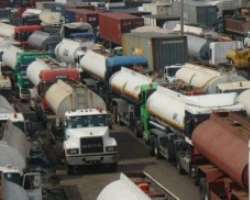 The Lagos State Government, yesterday, gave the tanker drivers 72 hours to vacate the Oshodi-Apapa expressway area as their presence had led to traffic gridlock on the road.
The tanker drivers and other articulated vehicles stay on the road to load fuel and gain access to the Tincan Island Port.
The government announced that within 72 hours, precisely, Friday, December 20, 2013, it would deploy its traffic machinery to the area, particularly, between Mile 2 and Apapa, to ensure sanity and streamline the activities of tanker drivers and articulated vehicles.
The decision was made when officials of the state government and the National Union of Petroleum and Natural Gas Workers, NUPENG; Petroleum Tanker Drivers, PTD, and the Association of Maritime Truck Owners, AMATO, met late yesterday evening at the Ministry of Transportation, Alausa Secretariat, Ikeja, on the need to tackle the gridlock that had continued to be a nightmare to motorists and residents in the area.
Speaking at the end of an emergency meeting, Commissioner for Transportation, Mr. Kayode Opeifa told newsmen that the government was worried by the situation around Oshodi Apapa Expressway, hence, it is determined to address the situation, lamenting that in recent time, the traffic situation had been horrible as a result of the on-going construction of the main carriageway by Julius Berger.
According to him, the construction had led to traffic diversion to the service lane which was initially earmarked for the tankers and articulated lorries, noting that this had made the traffic in the axis unpalatable.