Adeyeye Faults Fayemi's Claim On Ekiti LG Funds, Accuses Him Of Illegal Deduction Of LG Funds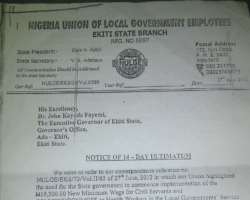 Afenifere Chieftain and Peoples Democratic Party (PDP) governorship aspirant in Ekiti State has described the State governor, Dr Kayode Fayemi's claim that he does not touch Local Government funds as "blatant lie", saying; "If there is any governor in Nigeria who has crippled the local government administration, that governor is Kayode Fayemi."

Fayemi had said while addressing Local Government workers at Ikere-Ekiti on Friday that; "I don't touch LG funds. I don't get involved in its management. I know there are lot of rumour flying around, but I am not that kind of governor. If there is any governor who doesn't touch LG funds, it is the one standing before you now."
However, Adeyeye, who reacted through the Director General of Prince Adedayo Adeyeye Movement (PAAM), Hon. Bisi Kolawole, said; "it is funny that a governor who was openly accused by the Ekiti State chapter of the Nigerian Union of Local Government Employees(NULGE) of pilfering Local Council funds could stand before the council workers and say he does not touch Local Government fund."
Adeyeye said; "It is on record that NULGE in Ekiti State wrote a letter to Fayemi; dated July 27, 2012 and titled: 'Notice of 14-Day Ultimatum' in which the governor was accused of illegal deduction of local council funds.
"Part of the letter, which was signed by NULGE Secretary, V.A. Adebayo read; 'We have it on record that what is being declared as total allocation to Councils in the State for some months now is not what is actually shared in the course of the Joint Account Allocation Committee (JAAC) meeting. A good example in this regard is the allocation for February shared in March, 2012 when the allocation for the 16 Local Governments amounts to N2,725,984,174.83 while what was declared was mere N1,345,640,056.01 and that of April distributed in May was N2,039,863,343.65 and the sum of N1,476,368,871.53 was declared and this has been the practice for other preceding months.'
"In other words, NULGE, whose members are the ones administering Local Governments funds and are also part of the State Joint Account Allocation Committee (JAAC) placed it on record that Fayemi's government deducted N1,380,344,118.82 from February 2012 allocation while N563,494,472.12 was deducted from April 2012 allocation.
"It is also on record that instead of going to court as he threatened then, Fayemi made the Ekiti State House of Assembly to hurriedly pass the 2012 budget of the 16 local governments on September 25, 2012.
"Listed as expenditures in the budget were about N1 billion as the councils' contribution to the renovation of public secondary school buildings, about N1.2 billion as their contribution to payment of Social Security Scheme for the elderly, N1.9bn for payment of 100 Vigilante Peace Corps, among other questionable contributions to Joint Projects.
"As at today, funds meant for Local Government Ekiti State have been used to execute projects like purchase of vehicles for traditional rulers and market women without the consent of the council administrators.
"So where lies the morality and truth in Fayemi's claim that he does not touch local council funds? Or should we conclude that the governor meant to say that he does not touch Local Government fund, he is stealing it?"