CBN to blacklist issuers of dud cheques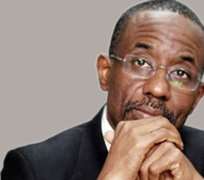 The Central Bank of Nigeria (CBN) said on Wednesday  that any individual or organisation that issue bounced or dishonoured cheques on three occasions would be blacklisted and barred from 'having anything to do with the banking system.'
Besides, such culprits will face prosecution.
The CBN Deputy Governor, Corporate Services, Alhaji Suleiman Barau, at the opening of a two-day National Stakeholders' Workshop on Dishonoured Cheques in Nigeria in Abuja,  said the bank would work out ways to ensure that  such incidence would be formally reported to law enforcement agencies including the Economic and Financial Crimes Commission (EFCC) for prosecution.
According to him,  blacklisting such individuals or corporate entities who engage in issuing dud cheques has "a salutary effect of discouraging other people who may want to take advantage of the laxity in enforcement to go the route you've gone."
"What that does is that you are marked as somebody who has the propensity to run down the banking system," Barau said.
"We expect that once the arrangements we are putting in place works, we'll get to a point where people will know that if you go on issuing dud cheques, you are likely to end up in prison even using the law that we have on ground right now, we know how long it takes for the legislative process to go through but it is a good thing that we are discussing now because as we noted, there are a lot of laws with the law as we have it."
The deputy governor, who was represented by the CBN Director, Legal Department, Mr. Simon Onoketu, said the menace of bounced cheques had the potential of eroding confidence in the banking sector as well as discouraging Foreign Direct Investment (FDI).
Stakeholders at the event were all agreed that the Dishonoured/Dud Cheques Act of 1977 was no longer abreast with current realities.
They want  an outright review of the act to give impetus to the war against dud cheques.
Prof. Osaremen Osunbor, a commissioner with the Law Reform Commission,  in a keynote lecture,  said a situation where culprits of dud cheques were allowed an option to pay a fine of the sum of N5,000 as stipulated by the existing Act was counter-productive and ineffective in the present economic reality.
He also argued the current definition of dud cheques needed to be clarified and expanded to go beyond the notion of having insufficient funds in the issuer's bank account.
According to him, those who issue such cheques could deliberately append irregular signatures including other conscious errors to cause their cheques to bounce.
Noting that though existing laws had managed to reduce the incidence of dud cheque issuance, he said it had not been eradicated.
Osunbor said there was the need to revisit the two-year imprisonment term, which had the option of fine as stipulated by the Act.